Verrado Football Destroys Millennium Tigers
Nick Mesa & Kyra Taylor, Reporters
September 6, 2016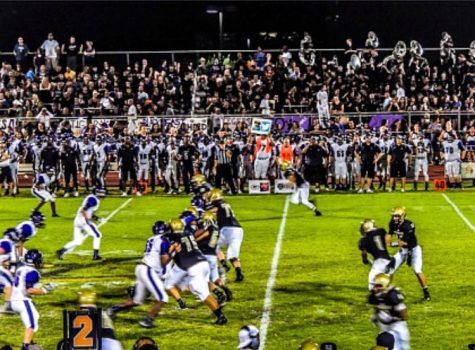 On Friday, September 2, the Verrado Vipers kicked off in a home football game against the Millennium Tigers.
The game was well-fought by both teams; however, the Vipers emerged as the victors by a dominating score of 41-20.
The inner-district matchup between Verrado and Millennium was highly-anticipated, as the two schools are separated by just seven miles.
Once the game began, both teams on the field were affected by the screams and cheers from Verrado's student section known as the Viper Pit.
The beginning of the game seemed as if it would be a continuous back and forth battle between the Tigers and Vipers, but by halftime the Vipers had a 17-6 advantage.
 By the end of the 3rd quarter, Coach Derek Wahlstrohm's Verrado squad enjoyed two more touchdowns, increasing the lead to 31-6.
The defense was tremendous, keeping the Tigers scoreless in the first half, and even forcing them to deal with an unheard of third-and-fifty-five on one possession.
Despite some last-minute scoring, the Tigers left Verrado with a 41-20 loss, already their second of the season. The Vipers extended their record to an impressive 3-0.
Senior PJ DeCoste, one of Verrado's defensive ends, credits the strong start to this season to the production of the underclassmen.
"We had a lot of underclassmen step up and the juniors have been working out ever since last season ended," said DeCoste.
Looking to build off of last season's success, the Vipers still have the same mindset and preparation going into every week.
"We really just keep working every single day and we have the same type of practices that we had last year. We always have to keep fighting because we've always been a small team," said DeCoste.
The Verrado Vipers travel to take on Williams Field (3-0) on Friday, September 9, at 7:00 p.m.