More Than Just A Teacher
This semester Verrado welcomed many new teachers, one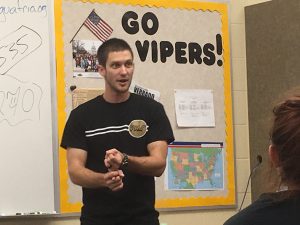 of them being Mr Mike Ward, the 2016/2017 school year.
Ward came to Verrado to teach Government and Economics after his high school government teacher "encouraged and empowered (him) to become an involved and educated individual."
Ward's teacher inspired him to become "a positive influence on (his) students."  
After attending Buckeye Union High School, Mr. Ward attended Glendale Community College for two years to play baseball, one of his passions in life, and then transferred to Estrella Mountain Community College to finish his Associate's Degree, before earning his Bachelor's Degree in Education at ASU. Before coming to Verrado, Ward taught social studies at Desert Thunder Elementary School to seventh and eighth grade.
Students are  taking a liking to Ward because of his exciting teaching style.  "Mr Ward is a very
interesting human being and is sort of like one of the students. He has a very fascinating way of putting things and is very funny," said senior,Val Estrada.
Ward does not just inspire his pupils in the classroom, but also on the baseball field. Baseball has always been a huge part of his life, seeing as Ward has been playing since he was old enough to walk. Ward enjoys watching his players learn, grow, and become confident in their abilities, while enjoying the sport of baseball and its many life lessons within it.
As well as teaching an important part of our education at Verrado, Ward, and his wife, use and promote essential oils.
"My wife is a nurse and she believes highly in natural-holistic health practices. We both researched and heard about the essential oils and their ability to aid the human body naturally," said Ward.
In the past year he and his wife have both experienced and benefitted from the oils,  which if you have ever wandered past Ward's room in the B wing, you will have noticed. "Plus, they work as great air fresheners too!"
Ward also exercises regularly with his wife, as they both do CrossFit.
"I enjoy CrossFit because it is never the same from day to day, and it pushes you to challenge yourself and push your limitations to become a better and stronger you! It is applicable to any/all individuals."
Using these oils, exercising with his wife, and coaching baseball are only pastimes because Ward says that, "My dream job is the one I have currently. I love teaching; I enjoy the fact that I can play a vital role in my students' lives."
Ward goes on to describe further.
"I love working at Verrado, the students and staff are all super accepting and open to everyone's own personality and who they are as individuals. The culture here is extremely fun, but yet focused on success and unity," said Ward.