Totah's Return a Small Victory Amid Friday Night Blowout
The Verrado Vipers were defeated 45-15 by the Williams Field Blackhawks on Friday, September 9.  Although the first loss of the season stung, it was the second straight week that senior offensive lineman Matt Totah was back on the field for head coach Derek Wahlstrohm.
Totah, one of three captains, was forced to miss the first two games after partially tearing his MCL just a week before the season.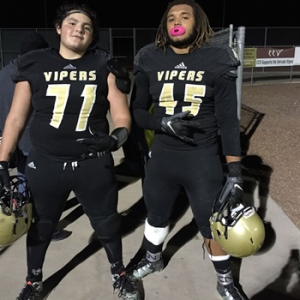 "One day at practice, I was blocking somebody, and my knee just gave out and kicked in. The doctor told me it was a partially torn MCL and that I'd be able to play this season, and that's all I'm thankful for," said Totah.
As the injury occurred about a week before the season opener, Totah knew the significance of a knee injury and just how serious they can be.
"I could tell the injury was serious because I felt it pop and I thought I tore something in my knee, but I didn't know if it was my MCL or ACL. I just thought I wasn't going to be able to play my senior season at all."
Verrado's returning starter spent several weeks on the sidelines watching his teammates dominate, and thanks to intensive rehabilitation workouts from school trainer Nicole Sweer, his return was sooner than expected.
"It took a lot of time. We did a lot of stuff, like one-legged squats. Mrs. Sweer will work you out pretty hard," said Totah with a smile.
In his first game back against the Millennium Tigers, Totah knew his presence was felt, and what he meant to his team.
"I definitely saw through the two games that I wasn't there that I do play a big role on the team. I think everybody was excited to see me back. I bring a lot of energy, and I bring a lot of hype. I come out and I do my thing, and I play football."
Senior quarterback Maverick Gamez was impacted by the loss of Totah. But, as he returns, so does the security of Gamez.
"Matt is my head of security," Gamez said. "He is a great player with a huge heart and we are a much better team with him on the field."
Totah's debut made an immediate difference in his first game back, as the Vipers crushed the Millennium Tigers 41-20.
"He is also one of our captains and seeing him battle adversity speaks volumes about his character, and his attitude carries over to the team," said Gamez.
After Friday night's loss, Verrado currently sits at 3-2, which is good for second in their Desert West section. Although they trail the rivaled Desert Edge Scorpions for first place, the return of Totah is a small victory in itself.
"I'd say that definitely getting injured humbled me. It was a downer for me, and I was so thankful once I was cleared. It just made me happy because what I love is football," said Totah.