Verrado Volleyball Off to Strong Start with Help from Seniors
The Verrado Vipers girls volleyball team beat the Westview Knights 3-2 on Tuesday, September 20, and the Lake Havasu Knights 3-0 on Thursday, September 22 at home to improve to an overall record of 11-4.
Winning has become the norm for Jamie Wagner, Logan Wallick, and Maddy Garner over the past three seasons for the Vipers. The girls have been apart of a program that has appeared in the state tournament twice in the last three years.
Now, as seniors, they plan to go out on top in their final season of playing together. "Now it's our last year so I want to do the best that we can, like I want to win state because I'm never going to play again," said senior libero Jamie Wagner.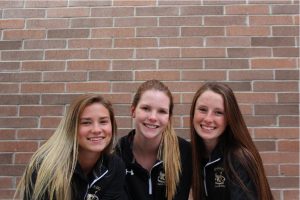 For the girls, the end of school volleyball goes beyond the game, as they have all played together since sixth grade. "It's cool to have friends so close off the court and then on the court. It just feeds into each other," said senior outside hitter Logan Wallick.
Heading into the new school season, Verrado faced the challenge of a tougher, more competitive schedule, as they were forced to move up to the 5A division. Despite the new opponents, the Vipers find themselves ranked sixth in the state.
"I think we're definitely meeting expectations, almost exceeding expectations. We moved up a division, so it definitely got a lot tougher. We've seen tougher competition than we've ever seen in all of our four years here," said Wallick.
With the exception of a blowout loss to the Millennium Tigers, part of the reason Verrado has been so successful this year is their resilient play late in the game. Twice this season, the girls have managed to come back from a 2-1 deficit and win in thrilling fashion, 3-2.
"We just know that if we want to go to state, we have to pull the set out," said defensive specialist Maddy Garner.
Wallick and Wagner have been on the varsity squad since their sophomore seasons, while Garner is in her second varsity year. After years of learning and soaking it all in, the girls are finally able to mentor the younger players and lead by the example that they were once taught.
"We have more responsibility as seniors now and there are a lot of underclassmen that we have to encourage on the court and off the court, like setting an example," said Wagner.
Fresh off of last season's 16-2 record that saw the team to play into the second round of the state tournament, Wallick, Wagner, and Garner are steering Verrado towards postseason play, which is no stranger to the three of them.
"You just have to know no matter what happens, we're not going to give up and I think that's the biggest thing that our team has going for us this year, is we have this drive where nobody gives up," said Wallick.