Verrado High School Band Invitation to London for New Year's Day 2018
On Thursday, September 22, the Lord Mayor of Westminster, Robert Davis, and the Executive Director of the London New Year's Parade, Bob Bone traveled to Buckeye, Arizona to formally invite Verrado High School's Viper Vanguard Band to this prestigious event.
Leaders of VHS, the Agua Fria School District, and Verrado Executives, including Mayor Meck were all in attendance. Sitting in the auditorium were 300 students; creating a buzzing atmosphere for the band.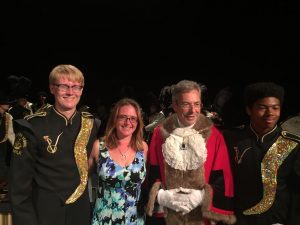 The faint noise of the band is heard down the school hallway as the Color Guard emerges holding their flags erect leading the band onstage. The Drum Major, Tryndon Hornback, mounts a chair and begins to mark time for three sets of songs.
Bob Bone, the Executive Director of the London New Year's Parade takes the stage. "8,000 people take part in the event, and you could be some of the lucky few if Councillor Robert Davis decides to honor you with the invitation," he mused. (For comparison, the Macy's Thanksgiving Day Parade has 4,000 participants). London's parade has 640,000-650,000 people in attendance, with another 300 million or more watching through other forms of media.
Over the last week, Bone and Councillor Davis have traveled to sixteen handpicked high
schools and colleges across the United States to invite them to play in London January 1, 2018. "American bands are the stars of the show," said Bone, "other than possibly your cheerleaders."
Bone called for applause as he introduced Davis. The Lord Mayor wore traditional clothing; a red robe embroidered with fur and a sewn picture of the crown embossed on the back, which looked resembled a mix between the Pope's sacred dress and Hugh Heffner's velvet robe.
Bone spoke of Britain's thousand year history, more specifically, of Westminster's history. He illustrated the parade route, passing the Ritz Hotel, circling the iconic bronze lions, and marching in front of the honorable Big Ben.
"Will you accept?" Davis implored to a rousing applause of hopeful Verrado students.
He commemorated the event with a plate given to Principal Dr. Mauer with the portraits of the the royal family painted on the front of it. Cufflinks were presented to Dr. Mauer and Mayor Meck.
Mrs. Meldrum, Verrado's cherished band director, was bestowed a broach, as well as a plaque with the invitation inscribed on it. She graciously thanked Davis and Bone for the opportunity and looked forward to preparing for the parade.
To ensure that it would not rain on the New Year's Parade, Bone also granted Mrs. Meldrum with an umbrella because, "it never rains when you have an umbrella, and it always rains when you do not. It's worked so far, so you must bring it."