Verrado's SkillsUSA and HOSA Host Successful Toiletry Drive
Verrado's SkillsUSA and HOSA (Health Occupations Students of America) hosted a toiletry drive to donate to the Homeless Youth Connection in Goodyear from August 24 to September 15.
The Homeless Youth Connection (HYC) is dedicated to raising awareness of homeless youth and meeting their needs so that they have the proper tools to stay in school and graduate.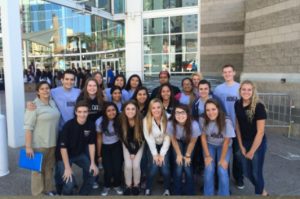 The clubs also decided that in order to get a maximum number of donations, they would open it up to the entire community of Verrado; so that it was not strictly confined to donations solely from the high school.
Senior Leslie Rueda, who is a member of the club said, "We received a lot of donations suited for youth. Overall, it was pretty successful. I know they really appreciated it so we might be doing something similar later on."
Mrs. Sweer, one of the clubs sponsors, however, explained that she was a little disappointed in the outcome of the event by explained that they only collected four boxes of items. Since the donations were open to a wide variety of people, they were hoping to get more donations.
Student Gracie Czarny said, "I didn't know anything about the drive, actually. If I did, I definitely would have participated!"
The drive was set to collect items such as soap, shampoo, conditioner, deodorant, toothbrushes, floss, toothpaste, feminine hygiene products, and various other essential items. The donations were to be dropped off in rooms E22, E8, or E4.
Mentors and volunteers are encouraged at the HYC program to provide the individuals involved with the guidance and support that they need. For additional information, visit their website, http://hycaz.org/.