Falling into Fall, Season Favorites and What to Look Forward To
Summer is officially over! As fall slowly trickles into our lives in the form of pumpkin spice lattes and sweaters, one simply cannot help but reflect on the exciting -or not so exciting- things that the approaching season has to offer. Upon questioning, a few fellow Vipers shared their opinions on the transition from summer to fall and what it meant to them personally.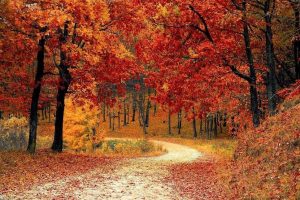 Sophomore, Jessie Siemens, discussed her reflective insight on the beginning of  the fall equinox. "It can either be a good or scary time," she opened up, "Often when we think of fall we bring to mind leaves changing on the trees, or wind blowing through our hair, but to be honest, fall is a season of change that brings with it good or bad news of the future." To Jessie, fall symbolizes the ever-changing, rapid pace of people and their lives.
To others, the season is more about the anticipation for upcoming holidays and the festive atmosphere that comes along for the ride.
"Fall makes me think of how Halloween is just around the corner and you get to see all of the pumpkins. There's also Thanksgiving, so you get to eat lots of food," said sophomore, Jarom Cluff. "Arizona weather becomes really nice too, because it's the season between summer and winter so you know it's going to get colder."
AP World History teacher, Ms. Harowitz, explains that she awaits "wearing boots, fall break, and my birthday- because that's when peppermint mocha season starts. There's also more time for baking!"
Fashion fanatics such as Camera Mosley, a sophomore, wait patiently for the transition from summer apparel to clothing that is more suitable for autumnal weather.
"I look forward to wearing boots, cardigans, heavy sweaters," she gushes at the thought.  "When I used to live in Virginia it was cold so I have a ton of Uggs, though I'm probably going to have to wait until January to use them!" she laughs, "I'm just really looking forward to wearing those again."
One sophomore shares his honest opinion about his past experiences with the season here in Arizona.
"Fall in Arizona can be a little underwhelming," Kyle Bigelow admits. "There's not the different colored leaves, so you have to go up north to like, Flagstaff if you want to see that stuff," he explains. "But I do look forward to Halloween, Thanksgiving, and my birthday. I love the smells, the flavors, the food…everything else about fall."
Despite the small downsides that experiencing fall in Arizona might bring about, it can be said that fall will ultimately be anticipated with welcome arms this year!