Trump vs. Clinton
On September 26, Presidential Candidates  Hillary Clinton and Donald Trump joined together in the first of three debates held at Hofstra University in New York. With an estimated 100 million people to have watched the debate, America was eager to hear the ideas behind Clinton and Trump's campaigns.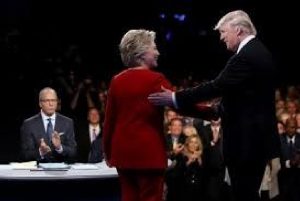 September 19, Lester Holt released the popular topics of the evening including America's direction, achieving prosperity, and securing America. However, many other personal topics were discussed during the debate,
As the debate started, rivals, Clinton (68) and Trump (70), kindly shook hands and proceed to their sides of the stage. Lester Holt, Anchor for NBC Nightly News, was the moderator for the event.
Clinton was questioned on her beliefs of police officers. She replied with a confident, "I think unfortunately too many of us in this great country jump to conclusions about each other."
Many people were expecting a very controversial debate, and they were not disappointed.  After Hillary suggested her concerns about Mr. Trump getting his hands on the nuclear codes, Donald Trump replied, "That line is getting a little bit old." Mrs. Clinton mocked his "secret plan," to fight the Islamic State, saying he had no true strategy.
"In good conscience I can't vote for either of these two…#Debates2016" actor, Patricia Heaton posts on her twitter late Monday evening.  
Clinton believed that Trump was hiding something while discussing the topic of tax returns before addressing her own personal issue of the email dilemma "I made a mistake using a private email," she said, "I'm not going to make any excuses. It was a mistake."
Many people around the world, concerned about the upcoming election, commented on different social medias expressing their feelings.
"It's like the Super Bowl for the apocalypse. #debates" American actor, Zach Braff, commented.
In conclusion, the first Presidential debate came to a close late Monday night with Americans everywhere concerned about the upcoming election in November. The next two
Debates are very highly anticipated by people around the globe. Sunday, October 9, the second Presidential debate will take place at Longwood University in Farmville, Virginia.