Gender Inequality in Sports Continues; Will It Ever End?
Hope Solo, a U.S. Women's National Soccer Team veteran of 17 years, was recently suspended and her contract terminated for calling Sweden cowards after their Olympic quarterfinal loss. This act by U.S. Soccer Federation once again demonstrates gender inequality in sports.  
Female athletes deserve equality because women, like Solo, are subject to stricter consequences than male athletes, currently they do not receive the same coverage because most televised sports are played by men, such as NBA or NFL games, and women are underpaid, like Alex Morgan's salary of $70,000 compared to Christiano Ronaldo's $53 million a year.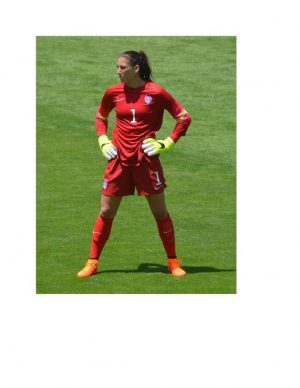 "We played a bunch of cowards. The best team did not win today. I strongly, firmly believe that," said Solo. Solo was only exercising her right to freedom of speech.  If she was a male athlete or coach, she would not have lost her contract or been suspended as long.
Clint Dempsey, U.S. Men's National Team and Sounders Forward, grabbed the referee's notebook and tore it up after his teammate was ejected for elbowing an opponent in the face, resulting with Dempsey's ejection.
"Any player, coach, manager, club official, or league official who commits an intentional act of physical violence at or upon a referee shall be suspended… at least six consecutive matches… The Professional League Member may not provide for a penalty shorter… but may provide for a longer suspension," states U.S. Policy Manual.
Dempsey practically received a slap on the wrist compared to Solo, with a punishment against policy. Dempsey was given a light sentence of three matches with no national team suspension because of their need for him.
Female sporting events are hardly covered. Networks think they are less entertaining compared to their male events.
"[SportsCenter] dedicated just 2 percent of its airtime to women's sports in 2014, research. . . Just 3.2 percent of airtime went to women's sports, down from 1999 and 2004 levels but a slight improvement over 2009's 1.6 percent," according to ThinkProgress.com.
Women's sports games are viewed less than NBA or NFL games. Phoenix claims they have only won one professional championship, but their WNBA team, the Phoenix Mercury, have won three championships. Unlike the Suns, they are ignored because they are women.
There is a huge wage gap between genders in professional sports as well. Women that perform better than men still make less.
"For  winning the 2015 Women's World Cup, the U.S. Women's National Team won $2 million. Germany's men's team took home $35 million for winning the 2014 World Cup. The U.S. Men's team finished in 11th place and collected $9 million," according to Women's Sports Foundation.
The USWNT has won three FIFA World Cups and four Olympic gold medals. The men's team has never won a world title and failed to qualify for Rio.
This inequality can end if female athletes receive more support. Support can be given by attending or watching female sporting events. This will show sponsors and networks that these women matter, and that they have large fanbases and viewerships.