Broadcast Club on the Rise
Throughout the years, Broadcast Club has seen an immense growth in size and popularity with many students wanting to get involved.
The club originally started as a small group with a few involved students. However, as time has passed, attendance has multiplied in size and has resulted in many students competing in Skills USA and STN (Student Television Network).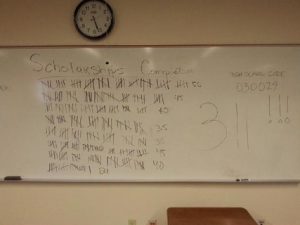 As Broadcast Club has grown, students have begun to gain leadership roles such as club president, vice president, treasurer, and secretary. Aside from those, senior, Jessica Goldin recently won the election for Skills USA Regional Officer for Broadcast Club.
"I think it'll be interesting to be a Skills USA Officer because I go to Skills already for broadcast, so it will be fun to see the leadership end of it," says officer, Jessica Goldin. "I've been apart of broadcast for three years now and I love it more and more every year."
Without Verrado's broadcast teacher, Mr. Walker, the club would not be nearly as successful. Walker agrees that only in his two years being at Verrado, he has seen major improvement and growth.
"When I first came to Verrado, there was no doubt that the students involved weren't already talented," says Walker. "However, as soon as I came I made sure to enter projects into competitions and film festivals to make sure that the students were getting more involved and getting recognition for their work. We have Skills USA competitions coming up and STN in the spring, and we'll be working our hardest to make sure we're prepared for those."
A lot of the students in Broadcast Club have been involved for years prior. However, every year there are new students experiencing the club for the first time.
"This is my first year in broadcast and I already love it," says senior, Cynthia Aceves. "I love how it gives me the opportunity to be as creative as I want and turn it in for a grade. There really aren't any limits as to what I can and can't create and I love that."
Broadcast Club has obviously been a great experience for the clubs members. Since there are many competitions in the future, broadcast students will have the opportunity to continue to learn more and more about the trade that they love.