President-Elect Trump Is Bringing Change to America
Trump's Plan to Make America Great Again
Donald Trump plans to hit the ground running as soon as he is inaugurated in January with an ambitious 100-day plan. Based on Tuesday's election results, the American people want change, which the president-elect guarantees. Trump has already met with Speaker of the House Paul Ryan and President Obama to discuss the plans for his presidency.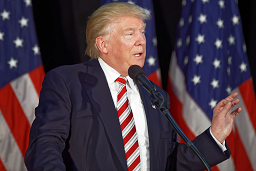 "A lot of really great priorities. People will be very, very happy," Trump said. "We're going to move very strongly on immigration. We will move very strongly on health care. And we're looking at jobs. Big-league jobs," he said during an interview after his meeting with Paul Ryan.
"[The] Middle Class Tax Relief And Simplification Act [is] an economic plan designed to grow the economy 4% per year and create at least 25 million new jobs through massive tax reduction and simplification, in combination with trade reform, regulatory relief, and lifting the restrictions on American energy," Trump explained in his 100-day plan, the Contract for Voters.
Trump wants to fix the American economy, one of the major points of his campaign. He wants to create more jobs to decrease the unemployment rate, something he insisted his opponent Hillary Clinton would not fix.
"The largest tax reductions are for the middle class. A middle-class family with 2 children will get a 35% tax cut," continued Trump.
With his new plan, the middle class, which is 51% of Americans according to Pew Research, will finally be relieved. They have faced hardships after the recession, job losses, and the spike in mortgage payments.
As a father and grandfather, Trump wants to protect communities and families.
"[Restoring Community Safety Act] Reduces surging crime, drugs and violence by creating a Task Force On Violent Crime and increasing funding for programs that train and assist local police; increases resources for federal law enforcement agencies and federal prosecutors to dismantle criminal gangs and put violent offenders behind bars," said Trump in the Contract for Voters.
The number of violent crimes committed this past year rose to an estimated 1,197,704, according to the recent crime statistics released by the FBI. That is a 3.9% increase since 2014. Trump wants to create safe neighborhoods for families by putting in place programs to prevent these crimes.
Trump has received mixed reactions on his plan to build a wall to enforce immigration, but he has the support of the Speaker of the House in his immigration efforts.
"I'm in favor of securing the border and I do believe that we need to have physical barriers on the border," said Ryan in an interview with Fox News' Bret Baier.
With the Congress talking about a fence and his plan for immigration screening, it is only a matter of time until immigration will be enforced.
The president-elect faces the daunting task of uniting a divided nation. He is up to the challenge and realizes that it takes everyone for a country to be successful.
"Don't be afraid. We are going to bring our country back. But certainly, don't be afraid," Trump stated in his 60 Minutes interview with Lesley Stahl.