Red Sox 'Big Papi' Officially Retires from MLB
On Tuesday, the Boston Red Sox officially announced that David "Big Papi" Ortiz has retired from Major League Baseball.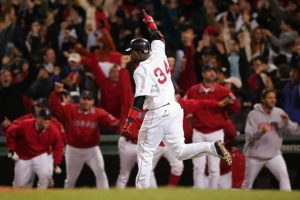 Ortiz put together an incredible 20-year career that is certainly worthy of a spot in the National Baseball Hall of Fame in Cooperstown, New York. The 40-year old is seventeenth on the all-time home run list with 541 and twenty-second for most RBI in baseball history with 1,768.
'Big Papi' compiled an impressive resume that saw seven Silver Slugger Awards, ten appearances in the All-Star game, three World Series titles, and a World Series Most Valuable Player award.
Ortiz began his career in 1997 with the Minnesota Twin and hit .327 with one home run and six RBI over his first 15 games. He would go on to play five more seasons with Minnesota before he was released by the team in December of 2002. Boston's general manager Theo Epstein quickly swooped in to snag Ortiz, signing him in January of 2003 for a $1.25-million deal.
In his first season in Boston, Ortiz would begin to cement his legacy as a future Red Sox great. He hit .288, launched 31 homers, and drove in 101 runs. A year later, Ortiz and his Red Sox broke their 86-year championship drought with an improbable World Series win over the St. Louis Cardinals.
It is what got the Red Sox to the World Series that will be remembered forever. Down 3-0 in the best-of-seven American League Championship Series to the rivaled New York Yankees, Boston stormed back with four straight wins, thanks to Ortiz's walk-off shot in Game 4, and a walk-off bloop single in Game 5 that sent the series back to New York.
The '04 Red Sox became the first team in baseball history to win a best-of-seven series after being down 3-0. Ortiz would go on to win two more championships; one in 2007, and then his final one in 2013.
Ortiz's postseason heroics continued in the fall of '13, when his Sox were on the verge of trailing the Detroit Tigers 2-0 in the ALCS. Down 5-1 in the eighth inning of Game 2, Ortiz tied the game with one swing of the bat; a grand slam that just missed the outstretched glove of Tigers' right fielder Torii Hunter and cleared the short right field fence.
Over the span of his career, Ortiz hit above the .280 mark in twelve seasons, hit more than 30 homers ten times, and passed the 100-RBI plateau on ten different occasions.
Big Papi was as big as a hero on the field as he was off of it. Just days after the 2013 Boston Marathon bombings with the entire nation shaken, Ortiz took it upon himself to rally the entire city around a single message. "This is our (expletive) city," he said. "And nobody is going to dictate our freedom. Stay strong."
Ortiz was a larger-than-life character on and off the field. His 6'3", 230-pound frame gave him the build of a superhero. And in a way, he was. For the last fourteen years, he had been Boston's superhero. He was the guy the Red Sox wanted at the plate when a big hit was needed, or when an entire city needed to feel safe and secure again.
A player must wait five years after his career has ended before he is eligible for induction into the Hall of Fame.
On the 2021 ballot, David Ortiz is sure to be a shoo-in. His legacy as one of the best hitters in the history of the game will always be remembered, as Red Sox' manager John Farrell noted. "Any time you have bridges and roads named after you, you built one hell of a legacy."