Ava Peabody Takes On Her Final Year in Verrado Theatre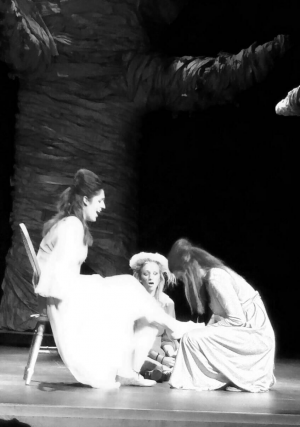 In light of the upcoming production of Verrado Theatre's, "Hamlet," it is only appropriate to recognize the president of the theatre program, senior Ava Peabody.
Ava started her journey in the theatre program when she moved to Verrado her sophomore year. She quickly became involved in theatre, but was highly skeptical about the program at first.
"The first time I went to Theatre Club I had gone home afterwards and cried because it was extremely different than the theatre program at my old school, and I felt like I couldn't go anywhere with it," said Peabody.
However, Peabody quickly found her niche when she was invited by one of her friends to assist with a tech rehearsal for the play, "Rumors." There, she met people whom she connected with and began to feel more comfortable with Mrs. Anderson, who is the director and leader of the theatre program.
In December of her sophomore year, Ava was head of hair, makeup, and costumes in Verrado theatre's winter Shakespeare show, "Macbeth."
"It was during Macbeth and the rehearsals that I became friends with all the people involved in theatre who I initially thought were weird, but turned out to be really cool and down to earth," explained Peabody.
As time progressed, she became more involved in the program by auditioning for, and receiving roles in numerous plays. She was an understudy for a supporting role in "West Side Story" and a stage manager for the Christmas show, "Inspecting Carol." She also had a lead role playing Helena in the second annual Shakespeare show, "A Midsummer Night's Dream" and participated and acted in many other productions.
"Participating and acting in so many plays has really been a dream home true and genuinely so much fun, I'm very grateful," said Peabody.
Peabody also went with the theatre department to Arizona Thespian Festival, where they competed in a group musical competition. They sang "Will I" from the musical, "Rent" and received a superior rating and gold medals. Additionally, Peabody competed in a solo monologue competition and, unsurprisingly, received an excellent rating.
Peabody is currently playing Laertes in the third annual Shakespeare production, "Hamlet." She plans on going to college to studying acting and credits her success to the help of her friends and Mrs. Anderson.
"None of this would have happened without the support from Mrs. Anderson, so I owe her all thanks, big time," concluded Peabody.