McGregor Makes History in Madison Square Garden
Conor McGregor becomes the first UFC fighter to hold two Belts in two classes 
Featherweight UFC champion Conor McGregor captured the belt from former lightweight belt holder Eddie Alvarez on November 12 at UFC's Madison Square Garden with a shocking knockout in the second round.
The Irish Fighter had called out Alvarez back in September, and from the start both fighters were confident on winning.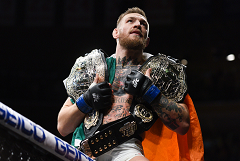 "I run this whole thing. I run New York. I run this whole ship. Without me none of this happens" stated McGregor in his early press conference before the fight when asked about other fighters complaining about his special treatment.
McGregor came out of his corner strong and won the first round with two knockdowns. Coming out into the second round McGregor taunted Alvarez by putting his hands behind his back, and urging Alvarez to hit him. His technique worked.
Alvarez got into McGregor's reach and struck McGregor with several hard blows; McGregor retaliated, and threw his knockout combo that put Alvarez down for the fight in the second round.
After the fight Alvarez stated, "I fought a bad fight. The idea wasn't to go in there and box and stand in front of him. I didn't fight a good fight."
After Diaz' win against McGregor earlier this year, many had said that a more wrestler-style fighter can beat him. Alvarez, like Diaz has a more wrestle-style fighting technique so the thought of a win against McGregor was very reasonable. But, after the Diaz rematch and the recent win against Alvarez, it is clear that Conor McGregor will continue to sweep the UFC lightweight fighting rings.
"I should create my own belt. I am, in myself, my own belt. It doesn't matter if its featherweight, lightweight, welterweight. It's the McGregor belt. That's it, I'm fighting for my own belt," Said McGregor.
UFC 206 is scheduled for December 10, 2016 in the Air Canada Centre in Toronto, Canada, with the main event featuring Daniel Cormier vs Anthony Johnson.