Verrado Holds Second Annual Holiday Angel Project
This winter season, Verrado High School, the Verrado community and others around the Litchfield and Buckeye area have the chance to change lives. The Refugee Women's Health Clinic (RWHC) is holding their annual Holiday Angel Project again this year and VHS is participating in this school and community-wide donation.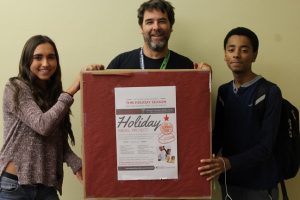 The Holiday Angel Project is a donation given to the women and children of the RWHC located in Central Phoenix. This health center holds over 5,000 women and children refugees from 49 different countries including Iraq, Afghanistan, Nepal, Somalia, and the Democratic Republic of Congo.
"These women and their families have suffered from war, torture, traumatic events, and have experienced all kinds of losses, including leaving loved ones behind," said the Maricopa Integrated Health Clinic. This donation will mean safety, good health, and community for many of these women.
Mr. Martin, a teacher at VHS, who helped run this project to VHS shares some of his thoughts. When asked why he chose the RWHC, Martin said, "Last year Mrs. Rivers did it but she's gone, so I wanted to continue with it. Her daughter got me in touch with the people at the RWHC."
He explains what the gift of giving means to him, "I think that when you give something it gives you a good feeling. If you can do something for someone else, in a lot of ways that's a bigger gift than what you're giving them. If you have the ability to give something to someone else, you should do it. I think in our community here at Verrado we have that ability."
Mr. Martin shares how the project resulted last year at the school and what he wishes to see this year in comparison, "It was actually pretty cool, we went into it last year with no expectations, we had never done it before and didn't think about how it was going to work out. Last year we had started it just in the C wing but lots of people from the community joined in too. We would obviously like to do more this year, we'd like to be able to give more donations. I'd also like to know how our donations make a difference."
Also, "I'd like people to know that this project is student run, by Verrado students. Two specifically in my advisory, Kyra Taylor and Julian Jones. But my advisory too. It's a way for us to give back, part of education is not just knowledge, it's getting that experience," he added.
Sophomore student Julian Jones who has taken a big interest in this project also shares his views.
When asked what kind of outcome he would wish to see from his fellow peers and others from the donation he said, "Well I'd like to see a change in the students when it comes to their empathy and compassion for other people, especially with the holidays coming up. Students are probably thinking about what they are getting instead of giving. I would just like to see the giving spirit this upcoming holiday."
When asked why he thinks this donation is important, Jones replied, "Well for one, especially with Donald Trump becoming president you hear a lot of anti-muslim/immigrant going on and I just want these women to know that not everyone is against them and racist towards them. There are still people out here who care for them."   
These women and children refugees are asking for anything people are willing to generously donate, but their top four "gifts" or donations they are asking for are as follows: diapers (size 1-2), bed sheets (full or queen), comforters (full or queen), and small baby strollers.
This donation will start the week of Monday, November 21. The donation deadline will be Friday, December 2.
Not only will this donation be accepted from Verrado High School students and faculty but also throughout the communities around Verrado. Everyone has the opportunity to make a difference this holiday season, so be the change. Jones has put together a short informational film on The Holiday Angel Project in the KVHS daily show which will air Monday, November 21 and Tuesday, November 22.