Verrado Welcomes New Government Teacher
This new school year has brought forth many new changes to Verrado. Among those is a slew of new teachers that are finding their place here on campus, such as Government and Economics teacher, Mr. Michael Murphy.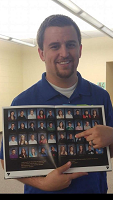 Murphy graduated from Verrado in 2010 with the first graduating class before going to college at Arizona State University to obtain his teaching degree.
"I'm really liking teaching here at Verrado, it's a lot of fun being back where I went to school," said Murphy.
Murphy also served as a student teacher to Mr. Eisen last year, before coming on as a full time teacher this year.
"I realized I wanted to be a teacher after I started coaching football. I formed mentor relationships with the kids and that happens to be my favorite part of teaching now," said Murphy. "You really get to be a part of their lives."
Murphy has made lasting impressions on some of his students such as Adriana Flores.
"Mr. Murphy is a really great teacher," said Flores. "His class is never boring and I always feel like what I'm learning is important and interesting, so I always look forward to going to his class at the end of the day."
He has also made an impact on Alyssa Martinez, one of his government students.
"Mr. Murphy teaches in a way that's never boring. He always gets the class engaged and interested in the material that were learning," said Martinez. "He really makes the class fun even when the material sometimes may not be the most interesting."
Murphy is already planning and looking ahead for the future years to come. "My teaching goals for the next couple of years it to find more real life examples for kids to work on and to maintain good mentor relationships with my students."
Murphy is loving his first year teaching and plans to stay at Verrado for a while.