National Honors Society to put on Pawlooza Dog Show
On Saturday December 3, Verrado High School's National Honors Society is holding a Dog Show to raise money for local animal shelters while having fun. It will start around 9am and run until 12pm, with food and drinks available for purchase.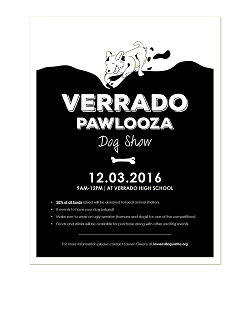 In preparation for the Dog Show, a committee of NHS members was brought together back in September. They meet every couple of weeks to plan and finalize the events for the show. With the show just a few weeks out, members are now promoting the show to encourage more students to sign up.
Mrs. Owens, Head of National Honors Society, has put a lot of work into this show along with NHS member Delaney Jackson and Officer Naomi Kharrl. Mrs. Owens encourages everyone to sign up and show their support.
"I think the most important thing is that this is for fun. It is to help raise money to donate to a local animal shelter (NHS will vote on the specific one after the show is over) and that it is a fun, family friendly event for dog lovers," said Mrs. Owens.
Delaney presents their strengths and weaknesses in the preparation of the show. It definitely wasn't the easiest, but it should be a fun, friendly event.
"One thing we had to work on was the timing because we were hoping to have it in November, but due to the lack of exposure we had to push it to December. One strength is that everyone in NHS seems excited about it and is eager to volunteer!" said senior, Delaney Jackson.
NHS members have had a blast in planning for the show, but Naomi Kharrl, officer in NHS mentions how social media can help in getting the word out and how the show has brought NHS closer as one.
"Social media is such an awesome tool that would definitely help spread the word about the show. For example, Twitter would be good and all other social media's. The more people here about it, the more they will get excited about it," says Kharrl.
While the planning and preparation have not always been easy, it did bring together a family-like atmosphere for everyone involved.
"The most fun part of planning the dog show was definitely getting to work with other people and be creative! Everything is so much better when it is done with a team, and it really brought students in NHS closer together," said junior, Naomi Kharrl.
Although not everybody has a dog, they are still able to enter.  NHS encourages everybody to come out, as it will be a blast with food, music, and drinks. For any further info on how to enter or volunteer you can contact Mrs. Owens at [email protected] or a NHS member.