Hard Work Pays Off For Two Verrado Athletes
On Wednesday November 9, two Verrado senior athletes, swimmer Olivia Bender, and softball player Katelyn Acton, had their signings for full-ride scholarships to continue their athletic careers.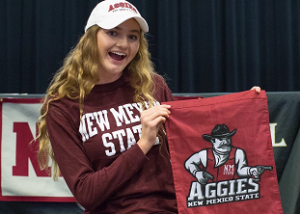 Bender finished a spectacular season of swimming, leading her team to top-10 in the state of Arizona. Her best times are in the 100m breaststroke, where she timed 1:08.00, and 100m freestyle, timing 54.68 seconds.
"It's really cool to be a senior and guide the freshmen and underclassmen, and show them how they need to be dedicated," said Bender. "But there are rewards at the end of it."
She follows her older sister Picabo Bender to New Mexico State University. Picabo graduated in 2014 and has been part of NMSU's outstanding swim program since.
Bender has been recruited by many colleges for not only her feats in the pool, but her success in the classroom. She is second in her class of more than four-hundred students.
Her transcript is full of challenging classes. Calculus A and B, AP Language and Literature, and AP Biology and Environmental Science are just a few of the college level courses she has taken.
Bender is truly deserving of receiving her scholarship and Verrado High School is proud to to call her "one of ours."
"It's kind of what you hope for and what you dream of your whole entire swimming career. And then when you sign that piece of paper it's like… amazing," said Bender.
As for the other athlete, Katelyn Acton is having her dreams come true, too.
Acton has signed to play for Grand Canyon University as their new center fielder. Her father went to GCU and she is excited to continue in his footsteps.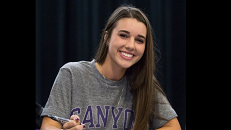 Acton will be entering her fourth year as a varsity player after an absolute monster junior season. In 33 games last year, Acton had 46 hits, a batting average of .426, and 21 RBI; nearly three times the national average. She will be entering her fourth year as a varsity player.
"I've wanted to go to GCU since I started getting serious about softball and learning I could potentially use it to go to college," said Acton. "It's always been a dream college of mine."
She is one of the highest ranked softball players in Arizona. She has been invited to softball camps at UNLV and Stanford where she showed off her skills to dozens of college coaches across the country.
She inevitably chose to stay here in Arizona and sign with GCU to become an Antelope like her dad.
Both young women are leading the way for Verrado, and the VHS community looks forward to supporting them at NMSU and GCU.