Celebration of the Arts
On the morning of December 7, Verrado High School will be holding a Celebration of the Arts day, presenting dance, band, art, and choir. There will be two separate assemblies, 30 minutes each in the auditorium in the morning so all student are able to attend.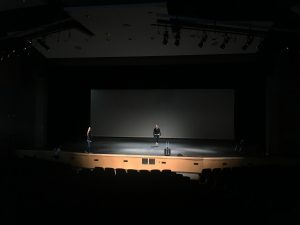 The first segment of the show will start promptly around 9:05 a.m. and end around 9:40 a.m., and then the second show will start around 9:50 a.m., with the same lineup. To begin the show, band will perform a piece of their competition piece, followed by a short theatre skit.
Following Theatre will be Choir, Dance, and Theatre, showcasing multiple dances, skits, and competition pieces to their fellow peers that they have been working hard on in class all semester long.
In addition to all the arts, the dance class has been working hard on all their dances for five to six weeks now. All intermediate and performance dancers are involved, with all separate goals and hopes for the performances.
Dance director Ms. Buchanan is hoping to accomplish a goal for all her dancers, "I am praying that all of my students enjoy their first time performing and I also hope that the audience enjoys their performances. This performance is a small sample of the large production the dancers will do in their May dance concert," said Ms. Buchanan.
Most dancers are at performance level, but some are intermediate and have little to no experience performing. In having different levels of dancers, Buchanan had the struggle of needing to adapt to their individual abilities, so no performance dancer got frustrated nor would the intermediate dancers feel out of place.
A two-year performer in Pom, Isabel Shaw strives to express all her emotions to her audience. Although Shaw is slightly nervous to perform in front of the audience, she is very excited.
"I am very excited to show the school our dances that we have been working so hard on in performance. I am most excited for the dance "This Girl," because I feel like the crowd will appreciate all the different aspects of the dance that are in it," said Shaw.
Most intermediate dancers quickly learned when dancing with the advanced students, and do not have much nerves for performing only a few times.
"I am only nervous about the lights and all the people, but once the music starts playing I forget about everything else," said intermediate dancer Maricela Zavala.
The Performing Arts of Verrado High School are excited to showcase all their hard work and in hopes of everybody enjoying the show. For any further information, contact any teacher around school for additional information.