Minnesota Timberwolves Defeats Phoenix Suns
On Friday, November 26, at 7:00 p.m., the Talking Stick Arena held the Minnesota Timberwolves vs. Phoenix Suns basketball game. The arena was filled with both Wolves and Suns fans eager to watch the game.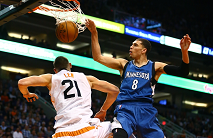 The Phoenix Suns (5-13) and the Wolves (5-11) are both having an unpleasant season, so it could have been anyone's game.
Two time dunk champion, point guard Zach Lavine, had what could be considered the dunk of the year. It happened during the waning minutes of the first quarter, Lavine came off the wing and slammed it over seven foot center, Alex Len.
The first quarter ended with a score of the Suns:  27 and the Wolves: 29. By the end of the second quarter, Phoenix was up by a score of 52-47.
During the third quarter, point guard Eric Bledsoe had to inbound the ball, and point guard Ricky Rubio had his back turned. With quick thinking, Bledsoe threw it off Rubio's behind and caught it for a reverse lay-up. The third quarter ended with Phoenix still up, 75-67.
The fourth quarter was a slip up for the Sun's in both their offence and defense; the Wolves were able to pull ahead using incredible offence. The Suns were shut out of the final 9 minutes of the game.  The Wolves overcame a 10-point fourth quarter deficit to win, rallied behind center Karl-Anthony Towns double-double. The final score was close, but left Phoenix with a 98-85 loss.
The Suns had just come off a six game road trip as well, which could understandably lead to the fourth quarter collapse, due to pure exhaustion.
Coach Tom Thibodeau was very positive when he was asked about the fourth quarter resiliency. He claimed it was, "The best fourth quarter all year."
A few players stepped up during the game. For the Wolves, it was small forward Andrew Wiggins who scored a total of 25 points, point guard Ricky Rubio had 4 assists, and center Karl-Anthony Towns racked up a total of 10 rebounds.
For the Suns it was point guard Eric Bledsoe who scored a total of 23 points and had 10 assists, and center Alex Len with 11 rebounds. Bledsoe had a double-double in the losing effort.
See the Minnesota Timberwolves play next Friday December 2 at 6:30 p.m. against the New York Knicks at Madison Square Garden and the Suns play the Golden State Warriors Saturday December 3, at 8:30 p.m. at the Oracle Arena.