Seniors Morton and Gallardo Shoot for Success in Final Season
In the boys' basketball season opener on November 29, the Verrado Vipers were edged by the Williams Field Blackhawks, 60-42, despite a double-double performance from senior forward Jackson Morton.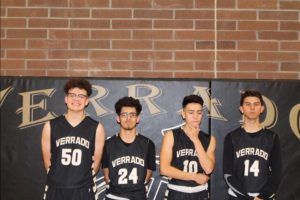 Morton, one of the team's four seniors, dropped 20 points and hauled in 10 rebounds. Senior point guard Robert Gallardo, gearing up for his first full season on varsity, was held scoreless, but dished out a handful of assists.
Despite the loss in the season opener, Morton and Gallardo are confident this team is different than previous basketball teams at Verrado for all the right reasons. "We're going to be a different team than last year. Last year we didn't play defense at all, but this year were a lot more defense-based. It's going to be better for us," said Morton, who is playing in his third season of varsity basketball.
Unlike his teammate Morton, Gallardo is entering his first full season on the varsity team. He shuttled back and forth last season between the junior varsity and varsity team, but is now confident in what he will be able to do in his senior season. "I would say I'm kind of nervous because I don't really have that much varsity experience, but I'm ready for the challenge."
Morton is the only player on the roster with this much experience, which serves he and his teammates well entering his final season as a Viper. "I think I've learned to just be smart with the ball and just trust your teammates. This year I can trust a lot of my teammates, and that will be helpful. I feel like we just have to play hard and we'll be fine," he said.
The Vipers starting five looks considerably different this season compared to last year's due to the graduation of eleven seniors. Just one season ago, all of Verrado's starters were seniors, which left every position to be vacant when open gym was first held at the beginning of the school year.
Not only was the starting rotation undergoing a major change, so was the coaching staff. Lance Richardson was last season's head coach, leading his squad to a 12-7 record and a playoff appearance.
This season, to go along with the uncertainty of the starting five, the Vipers have a new head coach, Chris Stark. Stark was an assistant last season for the Moon Valley Rockets, helping the Rockets reach the state tournament thanks to a 12-8 record.
Stark implemented a new workout program for the Vipers, beginning with off-season track work and 5 a.m. shootarounds before the school day. "I feel like the 5 a.m. practices and the track workouts have made us tougher as a team. It's kind of made us stronger, too, because the same people have been going so it's been good for us," Morton said.
Despite the changes the program experienced in the offseason, assistant principal Holly Bonessi sees potential for the Vipers in the upcoming season. "Coach Stark coming in has a wealth of knowledge and experience behind him that he brings in. He's been successful, he's had successful programs where he's coached before," said Bonessi.
The new coaching staff, the different starting five, and the opening night loss for Verrado does not affect the way Morton and Gallardo go about their business. Instead, they are looking to make their last season at Verrado the best in school history, and believe it has a chance to live up to the self-proclaimed hype.
"We put in so much hard work in the off-season. We're ready to play and we're ready to have some fun and win some games," said Gallardo.
The Vipers will look to get into the win column for the first time this season with a win on the road Thursday against the Chaparral Firebirds.