Verrado Receives New Staff Family
As the new year for Verrado High School is midway complete, new teachers have taken their place and are starting to feel comfortable among VHS staff.  With the departure of former dance and photography teacher, Ms.Blake from Verrado, staff and students have welcomed, Ms.Buchanan, the new dance teacher and POM coach.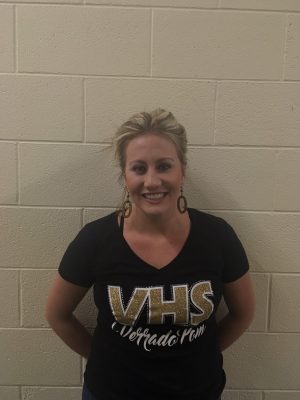 "Verrado was one of the fewest schools that needed a dance teacher in the state so I quickly applied for it," Ms.Buchanan notes on how she became a teacher at Verrado.
As many people view the lack of a fourth wall between classes as off putting, Buchanan remarks, "One of my favorite things about Verrado High School is the fact there is no fourth wall. It really helps to create an open environment that brings everyone closer together."
Although teaching students is one of Ms.Buchanan's favorite things about life, she eventually plans to start a family of her own. "I absolutely love kids and educating,"  she adds, "After a while of teaching at Verrado, I hope one day to find a husband and eventually be a stay at home mom."
However, teaching is not all of what Ms.Buchanan does for Verrado High School as she is also very well known by students as the POM coach. Senior at Verrado, Gabrielle Chambers says, "Coach Buchanan is honestly the best, we all love her and how funny and spirited she can be. Verrado is lucky to have her as a coach and a teacher."
Although Ms.Buchanan's last job was an English teacher at Sunrise Mountain, she is very confident with the work she does now as a dance teacher. As Tia Brown, a senior in Ms.Buchanan's dance class noted, "Ms.Buchanan really makes the class enjoyable for all students, you do actually learn a lot in this class and I am just really glad I did take it."
Outside of her teaching life, Ms.Buchanan states, "I love to hang out with my family and my boyfriend, time with them means the world to me."