A Very Merry Spirit Week for Verrado
As students and staff are preparing for the holiday season, VHS StuGo is looking to amplify the Christmas spirit at Verrado even more with a spirit week.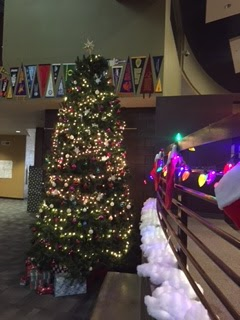 The spirit week will start on Monday, December 5, with Ugly Sweater Day; in which all of Verrado will be wearing their impressively ugly Christmas sweaters.
Ugly Sweater Day will be preceded by Flannel Day, which seems self-explanatory, more or less. Winter Sports Day will follow this on Wednesday, December 7, in which Verrado will wear a jersey or shirt from their favorite winter sport.
Next is College Day, where students and staff will be decked out in college gear from their favorite, or future college.
Lastly, on December 9, everyone will be dressed head to toe in Verrado colors on Black and Gold Day.
It would be safe to assume that students and staff are most excited about Ugly Sweater Day, considering the joy that comes across their face when they see the poster advertising the spirit day.
Senior Roman De La Cruz, who is the student body secretary said, "Ugly Sweater Day just brings the holiday spirit, it's the most fun to participate in because everyone just looks so bad."
Students outside of student government are especially looking forward to Ugly Sweater Day, too.
Alaina Abram, junior, exclaimed, "I am super excited about it because I already know what I'm going to wear!"
Ceramics teacher, Mrs. Engbring is also most excited for Ugly Sweater Day: "This is a spirit day that gives students the opportunity to express their individuality," she said.
Altogether, students and staff are beaming with holiday cheer and are eager to spread the Christmas spirit.
Anyone participating in the Spirit Week festivities has been encouraged to use the hashtag, #VHSHolidaySpirit to prizes throughout the week.