Girls' Basketball Begins New Season With Big Goals
Lady Vipers Have Championship Hopes After Last Season's Playoff Run
The Lady Vipers began the 2016-2017 season November 25 in the Scorpion Shootout Tournament and finished the tournament  2-2. They trampled Williams Field with a 60-44 victory and Senior Veronica Enriquez leading the team with 9 assists.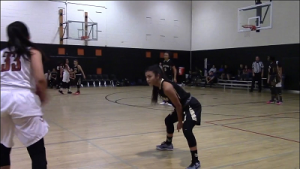 The Lady Vipers are coming off of a 24-6 season and a playoff run that ended in a round one with a loss to Monument Valley. Coach Vernon Beard and the players hope to revive last season's run and pursue the state championship.
"My goal this season is to try to win as many games as the team can achieve," Coach Beard told the Viper Times in a recent interview.
The team will focus on one game at a time. Undoubtedly, the players, especially the seniors, have the playoffs looming in the back of their minds.
"They [the seniors] want to cut down the nets and win a championship," said Beard.
Enriquez is one of those seniors. She plans on helping lead her teammates to the playoffs.
"My goals as a team for this season is to make it to state playoffs and go as far as we can. I plan on leading my teammates with two simple things, communication and direction," Enriquez said via email.
Coach Beard plans to improve from last season by refocusing his game plan. Beard has adjusted his strategies in pursuit of the championship.
"[We'll] pay attention to small details. We want to be more athletic than our opponents. We will impress [the crowd] from baseline to baseline, from the hotdog stand to the the bathroom." said Beard.
The players are also well aware of what they need to improve on. "As a team we need to rebound so we can continuously push the ball at a high tempo throughout the game," said Enriquez.
Players hope to achieve their team goals, along with some personal ones throughout the season. For the team to succeed each player has to be their best by challenging themselves with personal goals.  
"My personal goals for this season is to be a leader for my team and consistently make my teammates better," said Enriquez.
The seniors want to make the most of their last season as a Lady Viper. "My mindset heading into my senior year is to be a leader, control the game, and most importantly have fun on the court with my teammates," said Enriquez.
For some this is the end of their basketball career, like Enriquez. "I don't see basketball in my future, after high school I plan to attend ASU with a full scholarship based on my academics. I hope my accomplishments academically and athletically will always leave a mark at Verrado High School," said Enriquez.
The Lady Vipers need the support and cheers from the student body and teachers in the stands. Their next home games are against Chaparral on December 1 and Campo Verde December 6.