Coming Home: Olveda Returns as a Teacher
After graduating six years ago from Verrado High School, Natali Olveda has decided to return as a faculty member to teach Biology to the next generation of Vipers.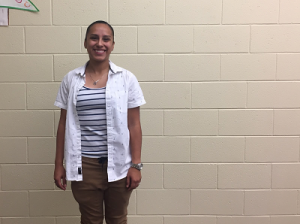 Five months ago, Olveda was changing oil in a car shop after graduating from Salem College. Then she got an email from her former cross country coach, Mr. Eisen, asking if she ever thought about teaching.
¨Within a week,¨ said Olveda, ¨I quit my job and moved out here.¨ After traveling to North Carolina for college, she was coming back to Buckeye, Arizona to teach.
While she did not have any prior teaching experience, she did have a few things going for her. She was an alumni and she had two science degrees.
The learning curve has been steep, but Olveda´s diligence has helped her take on the foreign field, as well as her former teacher, Mrs. Thomas.
¨As department chair,¨ Thomas said, ¨I have tried to give her advice to help her teach. It helps that she's very creative.¨ Thomas went on to say how rewarding it is to have a former student work as a teacher.
Olveda has a new respect for the job. Accommodating to students, accommodating to parents, and different learning styles have all humbled her view of her new job.
When Olveda graduated, there were 250 students less in her graduating class. This year´s graduating class has 468 students.
Being the first graduating class from Verrado made her feel like a pioneer for VHS. Now there is a new carpet in the main lobby, 1000 more students, and there are only a handful of teachers left from her time here prior.
¨A lot has changed since I was here, but there are still no walls," said Olveda with a smile.