'Moana' Shines in Opening Week
'Moana' treads familiar waters, but charm and stunning visuals wins over viewers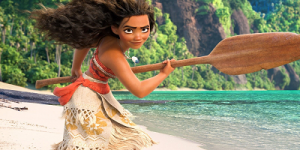 Riding off the success of Frozen and Tangled, Disney has finally released its highly anticipated Polynesian adventure, Moana, directed by Disney legend Ron Clements, the man behind Aladdin and The Little Mermaid.
Moana tells the story of its title character Moana (voiced by newcomer Auli'i Cravalho), an ambitious teenager who teams up with a demigod named Maui (voiced by Dwayne Johnson) in order to save her people from a curse that could change their future future, while she tries to find out who she is really is along the way.
With eye-popping visuals and gorgeous scenery, Moana is absolutely beautiful to look at. Its fast paced action sequences feel lively and dream-like. There is one scene specifically in which Moana and Maui are riding out waves in their boat in the middle of the storm and it makes the viewer actually feel like they are apart of the action, something that is rare in modern-day animated films.
Cravalho and Johnson add a certain charm and finesse to their characters. Despite just their voices being heard, viewers can feel the heart-warming chemistry between the two as the story progresses.
Although the visuals are top notch and it excels in charm, it is a real shame that Moana is not more original. It follows the same cookie-cutter story line of trying to save something bigger and trying to find yourself that has all become a little to familiar with Disney movies. It also hits some expected cliche' emotional beats along the way and finds itself becoming too predictable as it starts to reach the conclusion.
Despite some flaws and a few bumps along the way, Moana still manages to be a fun, exciting, and fast-paced movie for all ages. It may not have the originality or ambition needed to become a Disney classic, but with such beautiful shots and scenery, good chemistry, and thrilling sequences, Moana mostly succeeds.