Glendale Glitters Lights Up the West Valley
For the last twenty-three years, Glendale Glitters has served as a holiday landmark for the West Valley.  Glendale Glitters is the largest holiday light display in the state of Arizona, stretching over sixteen blocks right in the heart of Downtown Glendale. The light show has won several awards throughout the years and host thousands of families each holiday season.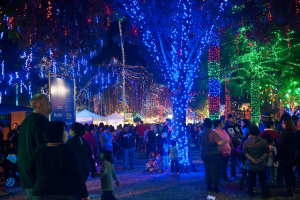 "The city lights up as part of its Glendale Glitters event, which involves both businesses in the downtown and neighbors in a 16-block area of the city," said IIyce Glink of CBS, who named Glendale Glitters as one of the top five light displays in the country. "The display has 1.5 million lights and is the largest free holiday light display in Arizona. One home uses 300,000 lights, 60 trees, and 100 animated figures for its display."
In addition to holiday lights, Glendale Glitters also offers special events and activities throughout the course of the season including a holiday themed food festival, pony rides, a petting zoo, performances from different bands and choirs, and of course, visits with Santa Claus.
"It's like a tradition for me to always go to Glendale Glitters every Christmas," said senior Nicole Gonzales. "It's so festive and pretty, it always seems to get me in the holiday mood and I prefer it to Phoenix Zoo Lights because it's free."
Despite being known for its lights and holiday celebrations, the Downtown Glendale area that host Glendale Glitters also offers some rare shops and restaurants that are open during Glendale Glitters. While in the area, visitors can explore exquisite antiques, comic books, and boutique stores that supply hard to find products. While looking for something to eat, visitors can eat at restaurants that offer foods from all around the world and ethnicities such as Poland, Germany, and Vietnam.
Glendale Glitters is located off of 58th Avenue and Glendale, and is open every evening from 5-11 pm until January 7.