Verrado Holds Annual Winter Festival: Hometown Holidays
Celebrating and kicking off the holidays is essential to the spirit of the community. Every year, Verrado holds a winter holiday celebration: Hometown Holidays. These magical events happen during the first weekend of the month of December.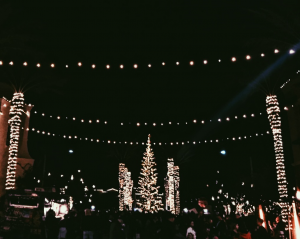 Starting Saturday morning on  December 3rd at 8:00 a.m – 10:00 a.m The Raven Golf Club, a golf club and restaurant in central Verrado hosted breakfast with Santa.
Children and their families had the opportunity to have breakfast with Ol' Saint Nick. This all you can eat buffet included pancakes, waffles, fruit, bacon, eggs, muffins, and more.
Saturday night is the anticipated highlight of Hometown Holidays. This was the 13th annual tree lighting where Verrado residents, friends, and families are all brought together on Main Street to celebrate.
Throughout the night there are many activities to do. Residents can enjoy pony rides, wagon rides, booths, pictures with Santa Claus himself, and the most famous for children; real snow.
There were many entertaining performers at this event including some of Verrados' music corporation: AIM music's performances and Verrado student Senior Ariel Bornstein who sang and played the guitar.
Ariel says, " Performing at Hometown Holidays was so much fun! It's a really laid back environment so I was really in my element."
Verrado High School's Student Government (STUGO)  had their own booth and were handing out free hot chocolate with a donation jar set out to a homeless shelter. The line was wrapped around the booth for people trying to get their hands on the free hot chocolate.
Sophomore class representative Kiley Evans shares her thoughts on the STUGO booth, "I thought the hot chocolate stand was great! Everyone volunteering worked incredible together, as it was enjoyable to give back to the community! Personally, I loved giving to the kids and the families on such a fun night."  
The wagon ride included a huge flat trailer decorated with Christmas lights and pulled by massive horses. This ride around Main Street could fit about 20-25 people and was one of the main attractions of the night.
The delicious  Main Street restaurants which consists of the pizzeria Grazie's and Tempo Urban Bistro was open for business, and busy as usual. Local grocer Bashas was also open and selling fresh hot pizzas.
Around 7:00  p.m. Verrado residents counted down the seconds for the 45-foot California White fir Christmas tree with over 9,500 LED lights to be lit up for the winter season.
The crowd counted down from 10 seconds and when the tree was lit cheering and a round of applause was heard.
Verrado never fails to impress with their holiday celebrations. And they managed to do it again this December when the community came together to kick off the spirit of the season at Hometown Holidays.