Verrado Wrestling Gets off to Hot Start
Viper Wrestlers Progress Towards State After Great Season Start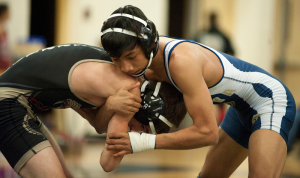 Verrado Vipers wrestling team took home multiple medals during last Saturday's varsity tournament at Camp Verde High School, as the season looks bright for several wrestlers.
Heading into his fourth year as Verrado's wrestling coach, coach Manak has been pushing his athletes hard in order for them to reach their full potential. The wrestling team has been holding practice since the beginning of October in efforts to prepare athletes for their wrestling season, and for some in hopes of taking home state.
After winning a second place medal in his weight class during the last tournament, varsity wrestler Spencer Nicholls stated, "The tournament went well, but there are things we need to work on to be ready for state."
With a total of  thirty two wrestlers this season, there are a large amount of student athletes with the opportunity to compete for a chance at state.
"I honestly think that if we keep going the way we're going we could have some of our guys on the podium at state,"  stated senior Johny McCumber. "I think that it all depends on getting in the right weight class and being smart, not sloppy."  
Wrestlers train almost every day after school; to increase their skill, technique, and also manage their weight. "A lot of the stuff we do in the wrestling room has to do with cutting any excess weight. The idea is to have to lowest amount of body fat allowed but keeping as much muscle as possible to take down someone who might be the same weight as you, but not be as strong," stated Nicholls.