Verrado Boys' Soccer Aims to End Two-Year Playoff Drought
The boys soccer at program at Verrado High School became well-known in the Winter of 2010, when they made school history by appearing in the state championship game.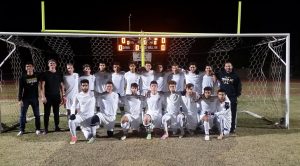 Sure, it was a 4-1 loss against the Notre Dame Prep Saints, but former head coach Ted Campbell and his Vipers put Verrado on the map. In each of the next three seasons, the Vipers would punch their ticket into the state tournament, something they had started to become familiar with.
And then, after the graduating class of 2014, Verrado soccer seemed to hit a wall. Their powerhouse program seemed to fade away, transforming into mediocre teams that just managed to hover above the .500 mark over the next two seasons.
But this season, as seniors Josh Velasquez and Ivan Nava note, has a different feel to it. It is reminiscent to the success Verrado experienced just six seasons ago, when they first established themselves as a force to be reckoned with in the West Valley.
"I think we can definitely make the playoffs, if we keep playing hard and we keep playing the way we know how to play, I could see us making it a couple games throughout playoffs," said Velasquez, who was a part of Verrado's last trip to the playoffs when he was a freshman in 2014.
The boys' soccer program at Verrado is looking to snap their two-year playoff skid, and will try to do so under first-year head coach Travis Roux. Roux had been the junior varsity coach for the last few seasons, which could bode well for his team this season. "All the players on varsity this year, most of them were on JV last year, and they had Roux on JV, so it's kind of the same thing for them," said Nava.
In his first year as head coach for the varsity team, Roux believes he has the roster to win, and do so consistently. "We're expecting to put out a good squad out there and compete in every game."
After an uneventful 6-5-1 season last year, Velasquez and Nava acknowledge the talent they possess this season, and just how much their style of play has changed. "High school soccer didn't used to be a big deal, and now it's becoming more better-quality soccer, so it's becoming more of a real game to watch," added Nava.
Roux and his Vipers currently sit at 1-3, courtesy of three-straight losses against the North Canyon Rattlers and the Chaparral Firebirds. Regardless of two consecutive defeats, a huge season opening 4-2 win against the NDP Saints previewed the potential this team has. "That was a huge morale booster for the team and we're looking forward to a good season. Notre Dame is a really good team and that was just a good win overall," said Velasquez.