Downtown Phoenix CityScape Embraces the Holiday Season
CityScape, the heart of Downtown Phoenix, is usually humming with creative and busy vibes. This holiday season, it is humming with creative and busy festive vibes.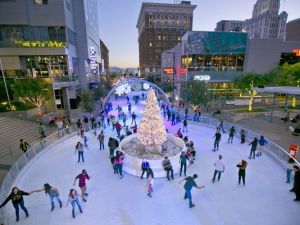 CityScape is holding many events that will help spread the holiday cheer across the Phoenix area.
Downtown Phoenix is carrying on their annual tradition with the highly anticipated CityScape ice rink. However, this year will be slightly different: skating will be broken into sessions to better the traffic flow of skaters and the need to prepare the ice.
"I am really excited that they are going to have more of a system for the rink this year because in the past it's been kind of hectic in the past," said senior, Logan Wallick.  
The rink is open every day of the week, but each day has different hours and sessions. Monday through Thursday the rink has two sessions and is open 5 p.m. – 7:30 p.m. and 8 p.m. – 11 p.m.
Friday has three sessions: 11:30 a.m. – 1:30 p.m., 5 p.m. – 7:30, and p.m., and 8 – 11 p.m.
Saturday and Sunday have three sessions, also: 3 p.m. – 5 p.m., 5:30 p.m. – 7:30, and 8 p.m. – 11 p.m.
The holiday hours are a bit different. On Christmas Eve, the rink closes at 6 pm, and on Christmas Day it is open from 5 p.m. – 11 p.m.
"I am super excited to go down to the rink on Christmas Day because Christmas is my favorite thing and it will make the day feel like Christmas, especially because Arizona lacks the weather for it," explained senior, Amber Holmes.
Saturday and Sunday from December 3 through the 18, from 1 to 6 p.m., Santa Claus will be available at the ice rink in CityScape to hear all of downtown's greatest holiday wishes. He will also be there Friday, December 9, from 4 p.m. to 9 p.m.
The ice rink and Santa make Downtown Phoenix CityScape the place to be this holiday season.