Class of 2021 Prepares for High School with Future Freshmen Night
New faces, no longer the 'top-dog' of their campuses, and the odd realization of three walls. The Verrado High School Class of 2021 got a taste of the next four years with the annual Future Freshmen Night taking place on Wednesday, January 18.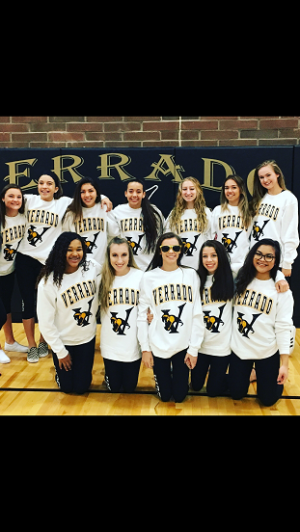 With clubs, sports, organizations, and academics lining the hallways and cafeteria, the incoming freshman were able to get a peek at what their high school careers would entail.
Coaches had sign-up sheets to see which ninth-graders are interested in trying out for their teams while club leaders and sponsors hoped to spark some interest with the current middle schoolers.
"We had a lot of interest from kids coming to our yearbook table, which is really cool to see. Yearbook played a big role in my high school career and it's nice to see more people taking an interest in it," said yearbook editor and senior Ariel Bornstein.
Coming into the first year of high school can be extremely overwhelming, which is why the night devoted to future ninth-graders is so beneficial. "It was reassuring to know that I'm going to be comfortable here for the next four years," said incoming freshman Cullen Fabits.
While the event takes place every year but features new freshmen, there was also another new face in assistant principal Mr. Saulsby. In his first year at Verrado, Mr. Saulsby was in charge of running, planning, and putting on the event.
"We had to plan with guidance, teachers, facilities, maintenance, clubs, sports, academic programs, and future students and families. That involved several meetings of the whole group and the various parts. Mostly, it involves constant and consistent communication," said Saulsby.
Verrado's Class of '21, which currently hovers above the 600-mark, will be the biggest in school history. Hosting the event gave students, parents, and staff a glimpse into the near future, which is helpful to all parties. "I love the fact that frosh get to see and experience our community and culture. I also like seeing the happy, hopeful looks on students and parents faces," added Saulsby.
"I hear the band play, see hundreds of people in the bleachers, and listen to Dr. Maurer talk to us for the first time. It definitely made me really excited," said Fabits.