Boys' Soccer Pushes For The Playoffs
The Verrado boys soccer team has been struggling for most of the year, but they have found recent success that might help them turn around the season.
The team can make the playoffs if they win the next three games played against divisional rival opponents. In an interview with Viper Times, Aidan Mathews told us what they needed to improve on to win these crucial games. He responded with, "Nothing, we just have to execute down the stretch. We have the talent and people necessary to make the playoffs."
Aidan clearly shows he has confidence in his teammates and the coaching staff. He believes in all the hard work and time invested into making this team work.
Ricardo Martinez also stated, "5 of our 6 losses are again the top 6 teams, we have a chance and we need to take advantage of it."
They must come together as a team and find ways to win the scrappy close game games. You must win the close ones if you want to succeed, they have tied twice this year and lost by one goal in two games.
As the boys make the final push they look for players to step up into the big spotlight to help lead the team.
The boys lost to Barry Goldwater on Tuesday, however they still are not out of the playoff hunt. If they beat Agua Fria and Desert Edge they have a chance to be ranked in the top 25 in the division and that would equal a playoff bid.
It's a tall order but the team believes they can put the talent on the field and compete with anyone, Ricardo said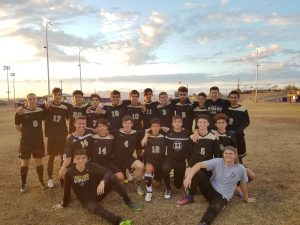 about the upcoming game against Agua Fria, "We both have similar records, I think it will be a good game, hopefully we can come out on top and stay in the race to the playoffs."
The boys soccer team needs support during these key games, they will play their last home game against Desert Edge on January 24 at 6:00 PM. Get out and support them as they make the final push towards the playoffs.