New Year Brings New Theatre Teacher to Verrado
A new face has been brought on board the Verrado High School teaching staff for the second semester of the 2016-2017 school year, Mr. Jeff Spence. Replacing Verrado's former theatre teacher, Spence is located in the black box (behind the main stage).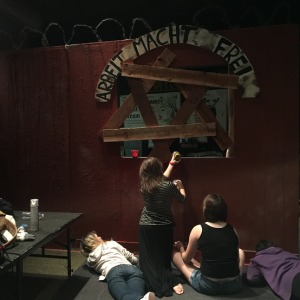 Although this is his first year teaching full time, Spence has an extensive background when it comes to working with young actors and actresses. Before he moved to Arizona, he lived in Portland, Oregon. During the summer for a couple years he taught acting classes to non-actors and taught the essential skills every performer needs.
Mr. Spence not only taught in Portland but he was also a professional stage manager, which he has continued to do here in Phoenix for the past seven years.
Last year he also assisted with the Kyrene Summer Community Theatre Program in Tempe, a tech theatre program for seven to thirteen year olds who are interested in all aspects of setting up, managing, and acting in a play.
The transition to Verrado High School in the middle of the school year was no easy task, "I was nervous and excited my first day here at Verrado, and have to thank my upperclassmen for all of their help as I adjust to teaching at this unconventional school," said Mr. Spence.
Even though Ms. Anderson will be missed, Mr. Spence has already seemed to make a positive impact on the students of VHS. Rey Sigala, a senior student in the tech theatre class said, "My favorite thing about Mr. Spence as a teacher would have to be his teaching style and his personality. Once I met him I got comfortable right away and felt like I could talk to him."
Not only are students excited about the arrival of Mr. Spence, but the other fine arts teachers are excited too. "He is funny, charismatic, and enjoys working with kids. He is great for Verrado!" says Ms. Buchanan, VHS Dance teacher.
Although he has been at Verrado for no longer than one month, he is already enjoying his time so far. Mr. Spence has said that he is most looking forward to "directing plays in this unique space."
Along with directing plays for the school he is also eager to make a difference in student's lives, "My favorite thing about teaching is seeing students push themselves to achieve more than they ever thought they could," concluded Mr. Spence.