Women's March Around the Nation for Equality
Protest signs, chants, speeches, and women empowerment were some of the sights that took place during the very first nationwide Women's March.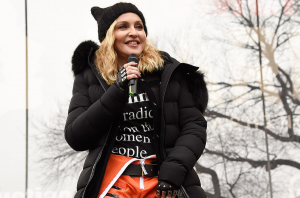 On January 21, 2017, people of all genders and races gathered together across the nation to protest against the new president, and fight for women's rights.
As the presidential inauguration took place the day before, people were looking forward to getting to the streets to have their voices heard.
More than one million people participated in the march. In Washington D.C., these protesters started at the state capital and slowly made their way to the White House. In Manhattan, there was an array of pink hats seen on Fifth Avenue, and Los Angeles had a crowd that was more than half a mile long.
According to the New York Times, "Attendance in New York City was more than 400,000, according to Mayor Bill de Blasio's office… The Department of Public Safety in Phoenix estimated that some 20,000 marched…"
Many celebrities joined in on the movement including pop singer and feminist icon Madonna, who performed her own inspirational speech. Actress Scarlett Johansson, filmmaker Michael Moore, actress Emma Watson (who is also a feminist icon), and actor Jake Gyllenhaal participated as well.
Verrado High School English teacher (who has asked to remain anonymous) explains her experience at the march in Phoenix, "Right off the bat it didn't feel like a protest. It was really marching to protect what we have gained. It wasn't really negative or anti-Trump anything, it was more 'please don't set us back 300 years, please don't take away everything women have fought for.'"
A variety of issues were protested against and brought to light in the march including sexism, Planned Parenthood, abortions, discrimination against minorities and minority women, rape, immigration, civil rights, wage gap, FGM, patriarchy, and much more.
According to CNN, "Some were there advocating for Black Lives Matter movement while others aimed to bring attention to reproductive rights. Some focused on the fight for equal pay and their opposition to rollback of former President Barack Obama's healthcare law"
Anonymous VHS teacher shares the different types of issues prominent in the march in Phoenix, "Absolutely women's rights. There were groups there like planned parenthood… we were marching for civil rights, women's rights, and marching for respect really."
The nation is facing a president who takes the issues very lightly. President Donald Trump has been viewed as sexist and discriminatory towards women through his words and actions. President Trump turned a blind eye towards the march on the 21st, but had something to say about it the day after.
On President Trump's personal twitter page, he shared his opinion on the protest posting: "Watched protests yesterday but was under the impression that we just had an election! Why didn't these people vote? Celebs hurt cause badly."
Hillary Clinton who was Trump's competing candidate during the election promoted the women's March via Twitter: "Thanks for standing, speaking & marching for our values @womensmarch. Important as ever. I truly believe we're always Stronger Together."
Madonna also made an appearance in D.C. and gave a very inspirational speech at the women's March addressing all the protesters and shared some of her political views.
"Welcome to the revolution of love. To the rebellion. To our refusal as women to accept this new age of tyranny. Where not just women are in danger but all marginalized people…Yes, I'm angry. Yes, I am outraged. Yes, I have thought an awful lot of blowing up the White House…" said Madonna.
Many items of clothing and protest signs took the March to a deeper level. T-shirts were made especially for the movement. Many of the signs saying saying things like: "We will not be silenced", "Nasty Women", "My body my choice," "I will stand with the most vulnerable," and many wore pink sewn hats with cat ears.
These pink cat eared hats represent the protest against Donald Trump, "Knitters — mostly women — started crafting handmade pink caps with cat ears, a reference to Trump's vulgar statements about grabbing women's genitals, which were revealed in a leaked video shortly before the election," said The Los Angeles Times.
Many agree that this march will go down in history as an act of peaceful rebellion and peaceful protesting. Verrado High School students and faculty share their views on the march.
Sophomore student Sailor Dereadt shares her opinions on the importance of the march: "The importance of the march was substantial. People like to argue and say all the protesting won't do anything, but I completely disagree…not only just women but the country as a whole needs to take a stand against the countless issues starting with the basic right to our bodies. Strength in numbers not only brings attention to these pressing issues and brings new hope, it also unifies us. We all as various individuals can merge together at protests like this to support one another in tragic times and hopefully be a part of the change we wish to see."
The anonymous VHS teacher who attended the Phoenix march shares her input on the importance, "Hope. If I saw all the signs and t-shirts and everything the one word I saw the most was hope."
She also shares what kind of emotions she was feeling during the march, "I think I was left mostly left with a restoration of faith in human kindness. I feel like the world has gotten so crazy and people have spewn such anger. When I went there I felt like there were thousands of people who are nice, level minded, that aren't out to take and bully."
VHS senior Chase Budnieski also gives us his input on the importance of the March, "To show solidarity against the racist, sexist actions of Donald Trump."
The Women's March will go down in history as a memorable and powerful movement. All genders, races and ethnicities can fight for women's rights and basic human rights. If the people of the nation keep pushing in the right direction, equality and justice can be achieved.