A Battle of the Brains
Verrado's Scholastic Bowl Club Participates in Interscholastic Competitions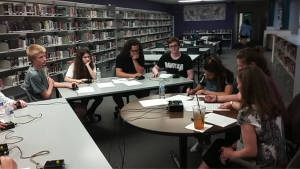 Verrado High School's Scholastic Bowl Club is approaching the end of its season with one last competition in February and a tournament in March, which will determine if the club qualifies for the National Championship in Atlanta, Georgia at the end of May.
"I think we have a good shot at doing well in the tournament. Of course my goal is to go to Nationals in Atlanta this year and to compete. We might be able to do that. I think it would be a lot of fun," said Mr. Martin, the club sponsor and a Verrado High School English teacher.
Scholastic Bowl is an interscholastic competition where teams compete in a tournament style format answering questions about math, science, visual arts, geography, politics, and popular culture.
Players are organized into three teams based on their experience and skill: the A team, B team, and C team. "The A team is where all the experienced players are. The B team is where the somewhat experienced are, and the C team is the developing team," said Martin.
Once a player gains enough experience and confidence to buzz to answer the questions, they will eventually be able to rise through the ranks. Junior Rachel Angle has risen through the ranks within the last two seasons after learning and gaining confidence.
"I know a lot more facts than I did my sophomore year and I expect I still have much to learn for next season," said Angle.
Martin loves watching his students shine and stand out individually in competitions. He is especially proud when he sees his young and developing players of the C team excel. "There was a proud moment when Delena [Hoang, a sophomore,] went off and got all of those math and science questions in the last competition."
There are many new faces on A team after most of last year's team graduated, but they have been able to hold their own against district rival Millennium this season.
"This being my third season as club sponsor, this has been our most successful season so far. We have a dynamite A team. We have some really brilliant kids on that team. We've been really competitive this year," said Martin.
Success is not the only thing time has brought the club. The club has grown tremendously over the years with many new members.
"When I started it wasn't what it is now. I was actually dragged into it because we didn't have enough players to make a second team. Now we have an excess of people with enough to make all three teams. It's really great," said Senior Satchel Martin, Mr. Martin's son and the president of the Scholastic Bowl Club.
New members are always welcome. Anyone that has a desire to compete and learn is welcomed. There are no academic requirements to join. "It is interesting that the smartest person in your class is not always the best," said the elder Martin.
"It's a fun group of friends that compete against each other while being a team. If you want to be in a close group and know random facts, then Scholastic Bowl is a great club," said Angle.