Chocolate Affaire Battles the Lonely Hearts of Valentine's Day
From February 3-5, the city of Glendale will hold its 22nd annual Chocolate Affaire in Murphy Park in old town Glendale.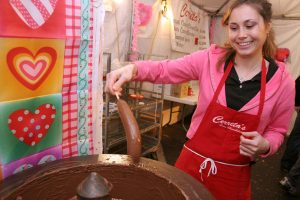 The Cerretta Candy Company is presenting this year's Affaire and will also be offering free tours during the event. Nearly 40 chocolate vendors will be present offering treats like chocolate covered strawberries, bananas, and cheesecake.
Aztec chocolate ice cream, deep-fried chocolate rocky road bacon, and s'mores in a mason jar are making their debuts in 2017's Chocolate Affaire.
The Affaire has grown tremendously in size since its inception 22 years ago. This year, the sponsors of the event expect around 85,000 people to come during the three-day event. The city of Glendale will receive more than 1.5 million in net earnings for the local economy.
The 90 vendors expect to sell between 30,000 and 40,000 pounds of chocolate. That is equivalent to two-and-a-half African elephants.
While the focal point of the event is chocolate, a litany of other activities are also available. Among them are face-painting, rock wall climbing, and other carnival rides. The most perennially popular stand is the chocolate-pizza-making booth.
"I don't know how you make chocolate pizza, but they're my two favorite things, so it can't go wrong," said Verrado senior Gabi Chambers.
Musical entertainment will include ten local bands over three days that look to keep the decadent experience rocking.
The Chocolate Affaire features the largest literary symposium of romantic novelists in the Southwest. Observers will be able to meet authors and even participate in a writer's workshop taught by the professionals.
If it could not get better, admission to the event is free. "It's free?!" said senior Kari Sundin. "Some boy better take me or I'll be mad."
Treat your Valentine to some sweet goodies and live entertainment at the Chocolate Affaire in Glendale from Friday to Sunday.