Verrado Pom's Kids Clinic
The Verrado Competition Pom Team hosted a Kids Pom Clinic on Saturday, January 28 where current members were able to pass down their techniques and wisdom to all of the young girls who signed up. The money from the clinic will go towards the team's upcoming trip to Anaheim, California for USA Nationals.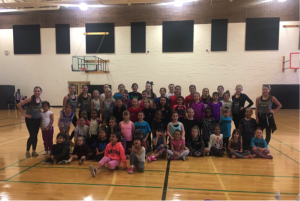 The clinic was open to boys and girls, grades kindergarten through eighth, interested in dancing with the Verrado Pom Team. No prior dance experience was required.
The clinic practice was on Saturday from 9:00am to 12:30pm and consisted of playing games, learning basic dance techniques, and being taught what it is like to be a Verrado Pommie. They were also taught a one minute routine to the song "Uptown Funk" by Bruno Mars.
On Tuesday, January 31 the Junior Pommies performed their dance in front of the huge crowd at the Verrado Varsity Boys Basketball game against Desert Edge. "I am so proud of every single one of them. There was a big crowd Tuesday night and the girls went out their with smiling faces and confidence, which is what embodies what we do as dancers," says senior Competition Team member Izzy Shaw.
It is not easy being in charge of young dancers, especially when the goal is teaching them a new dance. "We just have to make sure to give them lots of snack and water breaks. And play games… they love games," said Shaw.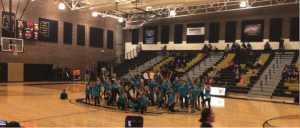 There have been a few kids clinics held by the VHS Pom and Cheer teams in past years, however this is the first clinic that only the Pom team has been in charge of. This clinic has had the best turnout so far with grand total of 54 Junior Pommies. "With all of the money that we raised we will be able to put it towards our upcoming trip to Anaheim, California for USA Nationals!" said Ms. Buchanan, the Pom Coach.
Not only did the Viper Pommies get something special out of the clinic, but the Junior Pommies did too. Ashley Mills, an eighth grader from Verrado Heritage Elementary School said, "My favorite thing about the clinic was learning the dance, it was a lot of fun. I feel like I got a great experience of being a Verrado Pommie."