Economics Class Plans Community Service Projects
Mr. Murphy's class explores different efforts to help the city over the course of the semester
Throughout the second semester, Mr. Murphy's government and economics class is doing something special and unique to help the community surrounding Verrado and the state of Arizona.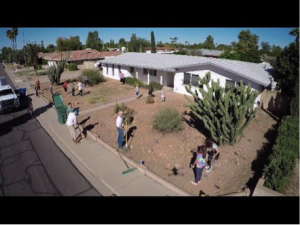 Murphy separated his classes into different groups to generate ideas for the class. Suggestions that have came up so far deal with volunteering at homeless shelters, assisting the elderly with everyday tasks, donating to animal shelters, and tutoring children with their homework.
"We looked at anything that involved the homeless or the needy. We will probably do something like Meals on Wheels or Mary's Food Bank," said junior Katie Baxa, a student in Murphy's class. "I think it's pretty cool we get to help others as a project. It's different and very hands on and we need more of it in today's learning environment."
Some of Murphy's other students like senior Adriana Flores, also have an idea for what they want to do for the project.
"My group is working on doing the Habitat for Humanity. I'm really excited about it because I think it's going to cause a huge impact in the community as we are helping someone build a home. It's a great experience and I didn't even know this type of stuff existed until now," said Flores.
At the end of next week, each group will present their idea for the community service project, and everybody will vote for which one they think would be the best to do. Students will not be allowed to vote for their own idea to allow a diverse and accurate amount of votes. The idea that gets the most amount of votes is the one that the whole class will ultimately end up doing together.  
"I've been doing community service my entire life and that experience is what gave me the idea to come up with this project," said Mr. Murphy. "I think it will give students the opportunity to see what other's don't have and that it will give them a lot more appreciation of what they have themselves."
Students will get to work soon after Murphy's classes decide as he plans to have the whole community service project done by mid March.