Sliding into Verrado's Softball Season (2017)
As February rolls around and kicks Spring into gear, students can stop waiting for ball games, throw on their caps, grab some sunflower seeds, and bask in the sun at a Verrado High School softball game.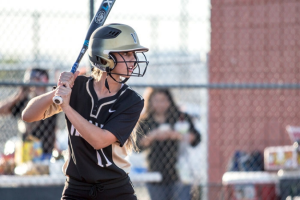 This seasons tryouts were held the week of February 6 after school. There were players trying out for positions on the Freshman, Junior Varsity and Varsity teams. The Varsity team will be led by second year coach, Tee Hampton.
Last year the Verrado Varsity team ended the season by making it to the playoffs, but suffered a loss in the first round, ending their season.
Senior and varsity player Katelyn Acton who has signed to play for GCU shares her hopes for this upcoming season, "I hope to at least match what we did… we have a bit tougher schedule this year so we'll see!"
Acton also shares some personal and team goals, "My goal is to make every game count. With it being my senior year I want the whole team to come out, 100% ready to go, every game and every practice. We are going to have a lot of adversity this year and it will be fun to watch what we make of it."
Sophomore student Hannah Miller who plays pitcher, right field, center field, second, and first base says, "This year I made JV, hope to see a solid season this year and I also hope to see and great relationship between all of the girls."
Tryouts the week of February sixth stretch out over a three day period each day testing different abilities. Day one includes throwing and fielding for defense, day two will include hitting, and day three is when Hampton will make cuts.
Each team will carry about 13-14 girls and the practice schedule includes a 2-3 hour practice everyday after school and in addition, Saturday practices.
The season will include 18 total regular season games; 9 home and 9 away. The first game will be against Sunnyslope High School on their home field February 27 at 4:00 pm and their first home game will be against Centennial February 28 at 3:45 pm.