VHS Theater Prepares for Upcoming Production of 'You're a Good Man Charlie Brown'
Hopeful actors practice their singing and acting skills ahead of callbacks.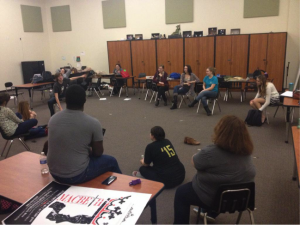 The Verrado High School Theater Department held auditions last week and is preparing for production of the upcoming musical You're a Good Man Charlie Brown. This adaptation is also the first production at Verrado for new teacher, Mr. Spence, who just recently graduated with his masters degree.
The musical follows a day in the life of Charlie Brown and the Peanuts gang as their relationships with each other is explored farther than before, based on the popular Peanuts cartoon strips.
Some members of Verrado Theater have already auditioned and are anxiously anticipating the play, such as senior Alex Cockett.
"It's definitely a scary process but I know it'll be worth it in the end, I love seeing it all come together on opening night," said Cockett.
"Doing a musical is much different and more challenging in my opinion. We have to memorize lines, stage directions, dance steps and songs. We have to focus on more than just acting and also on other elements only found in musicals."
This is not the theater department's first go around at a musical. In 2013, they put on their adaptation of the hit musical Annie. In the past years they have also put on productions of Hamlet, A Midsummer's Night, Macbeth, and Inspecting Carol.
"I think I'll go," said English teacher Miss Barnes. "I really enjoy seeing what they put on and what the final product of their hard work is."
"It's nerve wracking but I'm super excited to be here," said Spence. "I didn't know what I was walking into, but I can't wait to put on the play. It's smaller than others as there are only six main characters and the rest are just background."
Callbacks for You're a Good Man Charlie Brown will take place next week and the final production of the musical will premiere on April 20 and will also show again on April 21 and April 22.