Boys' Tennis Looks to Build off of Breakout Season
After an impressive 14-1 campaign last season that saw an appearance in the second round of the team state tournament, the Verrado boys' tennis team is hungry for more this year.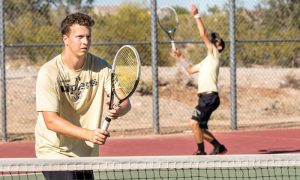 Despite some key departures starting with head coach Tom Ward, two senior players and one junior, this year's tennis team feels like they are in a good position to build off of last year's successful season.
Getting back to playoff form started in the offseason, where senior Max Woodhead and sophomore Kyle Bloomstadt consistently played.
"I'm excited to see what the team this year will be like with only three players returning from last year. It will be a true test to see how we will do considering we moved up a division," said Woodhead.
For the sophomore Bloomstadt, a successful freshman season sets him up nicely this spring, as he intends on competing again at the next level. "My expectations for this upcoming season would be to go to state again and hopefully do as good, or better than we did last year. I'm hoping for a great year."
First-year head coach Travis Roux is ready to tackle the challenge of coaching tennis. It is something he has never done before, as he has strictly been the school's soccer coach for the last few seasons.
"Organization is key and knowing how to work with a team of high school boys, is virtually the same in most sports.  Having the ability to help the players work through the good times and bad, is again very similar in both sports.  So these are universal aspects that I can apply to both sports," said Roux via email with the Viper Times.
After a dominant season last year and one that should translate into this spring, the boys are beginning to capture the attention of students at Verrado. "I think you guys should keep working hard and keep pushing for success especially after what you did last year," said senior Kylie Pollard.
Three spots have opened up for the final three varsity positions, which excites Roux as most of the boys are only juniors. In his first year as the tennis coach, he has plenty of depth to use to his advantage as he intends on keeping up to 12 players.
Last season was the best boys' tennis season in school history. This year's team aims to prove that it was no fluke, and the bar is set even higher this spring.
"I think that we should have a winning record again," concluded Woodhead. "After tryouts I think we have potential to do great again like we did last year going 14-1."