Verrado Musician Leaves Mark on Music Program
Junior Brian Alan makes All-Regional Band
Verrado High School junior Brian Alan qualified for All-Regional Orchestra on January 28 at Desert Ridge High School in Mesa for his French Horn performance. Performers went through a grueling and rigorous process, but only the top scorers were selected. He is one of the few Vipers to do so.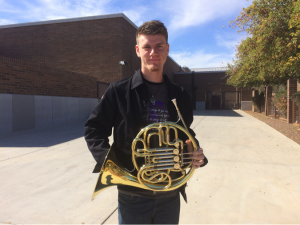 Alan has been playing the French Horn for six years. With his level of talent, may would be shocked to learn that he is self-taught.
"Brian is a very talented, hard-working student.  He has taken music classes every semester, including a music theory class last semester and he thrives in all of them," said Mrs. Meldrum, Verrado High School Band Director.
No stranger to musical success, Alan has toured with the Academy Drum and Bugle Corps for three years. The Academy is a professional drum corps marching group without woodwind instruments.
"I go to Indianapolis every August to compete for the top 12 of Drum Corps International. The top 12 corps make it into finals. My first year the Academy got 15th place and last year we got 11th," stated Alan.
While Academy is a major accomplishment, nothing compares to the All-Regional Orchestra. "Getting into the Regional Orchestra is an incredible feat. I'm one of the top horn players in our region," said Alan.
All-Regional Orchestra is not the end of this year's goal, but is only a stepping stone. "I will be trying out for All State later this semester," added Alan.
His passion for music is obvious to everyone in band and everyone that knows him. "He loves music and is so good. He can play my clarinet better than I can, and he is a brass [player]," stated junior Aurora Hedgecoth.
Mrs. Meldrum is extremely proud of Brian and his accomplishments, but is not the least bit surprised.
"One of the things that makes Brian stand out musically is he practices every day.  While music is fun, it definitely takes dedication and focus to become a quality musician. I am extremely proud of any of my students who conquer the odds and make it in. I am so proud of Brian for representing Verrado well this year and making it into the Central Region Orchestra," commented Meldrum.
High school is not the end of his musical career. With the talent he has, Alan wants to continue his pursuit of  music. "I want to go to ASU and get a degree in Music Education. Music is my passion and will always be," said Alan.
With college still a year away, Alan will continue to focus on his contributions to the band and perfect his talent.
"I will keep my A-game up by, obviously, practicing every day and doing what I love. The Drum Corps here in Arizona, as well as Mrs. Meldrum, have taught me a lot about brass playing and who I can be," said Alan.
Verrado Vipers can support Brian Alan at the Regional Orchestra concert on February 18th at Mountain View High School in Mesa at 2:30 PM.