Sixth-Annual Blood Drive
On February 28, 2017, Verrado High School is hosting their sixth annual blood drive by the United Blood Services.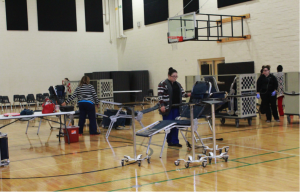 Many students come out to donate, as the need for blood is constantly growing. Everyone is welcome to donate, however, students under 18 must have a signed form by a parent/guardian.
Males must be at least 5' tall and weigh at least 110 pounds, where females at least 110 pounds, but shorter than 5'6" must refer to the blood donor qualifications.
If females need more info on checking to make sure they meet requirements, they can find them on the minor donor permit. Along with getting a form you can receive general information about donating blood in Mrs. Sweer's room.
"Our goal is a total of 65 donors which means we need to have over 100 attempt, right now we have about 30. We usually get a fair amount of kids donate the day of the drive, but always would like more. There is always a shortage of blood and the saying is true you are helping save a life," said teacher Mrs. Sweer.
During the blood drive they are holding the Power Red Donation, which doubles the lifesaving power. The need for Red Blood Cell transfusions are growing rapidly, which help trauma victims and patients undergoing surgery.
In donating for the Power Red Donation, donors must meet another set of specific requirements. Males must be a minimum of 130 pounds and be 5'1" tall, where females need to weigh at least 150 pounds and be 5'5" tall.
Many students attending Verrado High School have donated blood multiple times, where others will be donating for the first time upcoming February 28. "I am excited to be giving blood for the first time and be able to give to people hope and bring more positive energy back on this world," said junior Anthony Tapia.
In donating blood, students give back and help individuals in need. In some situations students are just not able to give blood. "I would love to donate blood, but every time I try they tell me I am too small," said senior Nany Robleto.
Some students absolutely fear giving blood, but some have come to the realization that they can do it. Others are just excited to give for the first time. "I am very nervous about donating blood as it will be my first time doing so, but I am willing to donate as I know it is for a good reason" said senior Justin Sauceda.
Although giving blood might not be ideal to students, can check out http://unitedbloodservices.org/ for more information. Look forward to the upcoming blood drive later this month, and do not forget to fill out a donor form.