Acton Prepares for GCU in Final Season at Verrado
BUCKEYE– She knew it in eighth grade.
All it took was a hard hit ball, a sprawling dive to her left, and a bullet throw to first base that would ultimately impress Grand Canyon University softball head coach Ann Pierson.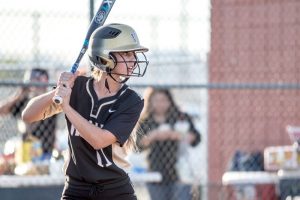 The manager for the Antelopes softball squad traveled to a tournament that the then 14-year old Katelyn Acton was playing in. Pierson witnessed the diving snag, and it was then when Acton knew; playing collegiate softball was no longer a dream, but something more along the lines of a reality.
And yes, this was her eighth grade year.
Acton verbally committed to Grand Canyon University her freshman year, but was in contact with them before high school. It was eighth grade that she realized she would follow in her father's footsteps and play collegiate ball at GCU.
Fast forward four years and the GCU commit is gearing up for her fourth and final season as a Viper, where she will wrap up an impressive tenure in the black and gold. She made the varsity team as a freshman, and soon evolved into a captain.
The utility, do-it-all athlete managed to hit .418 in 64 games as an underclassmen. She added 27 extra base hits and 61 RBI to a resume that is sure to flourish even more in her last season.
As a captain in her senior campaign, Acton feels like the Vipers have what it takes to reach the state tournament for her fourth consecutive time. "I'm pretty confident in us. We have a great coach, and our goal this year is to take it game by game, practice by practice and get better everyday."
She will even don her old man's #29 jersey number, and do it at a school that she feels is the perfect fit for her.
"Throughout the entire recruiting process, I was hoping she would pick GCU," stated her father, Cory Acton, via email with the Viper Times. "The day Kate made her decision final, was honestly more exciting than the day I made my decision to attend GCU."
Acton always knew where she would end up, despite being recruited by a good amount of schools. "I knew deep down I would always end up at Grand Canyon. It was the right fit from the start," she explained. "I love the coaches, I love the team, I'm going to be able to play with two of my best friends, Shea and Sierra Smith, who also played at Verrado."
The work Acton does for the Vipers on and off the field is influential on her younger teammates, as sophomore Bianca Worthy explained. "It's super cool to play with her because she's an awesome teammate.
"She teaches me a lot and keeps me upbeat along with the rest of the team. Katelyn is an overall great competitor and I can't wait to play alongside her this season," Worthy continued.
In a way, as she begins her last season as a Viper and nears her first of four as an Antelope, it comes down to more than softball. It all comes back to family, as the Actons realized throughout the entire process.
"Tears come to my eyes every time I think of seeing the #29 in purple and white across her back. I know she will grow up to be a very strong, successful woman and make her mark in society, but I couldn't be more proud of my little girl than I am right now," concluded her father.