George Winston: A Musical Genius
On a chilled winter evening in Tucson on February 2, 2017, the Berger Performing Arts Center showcased a gifted and accomplished artist; George Winston.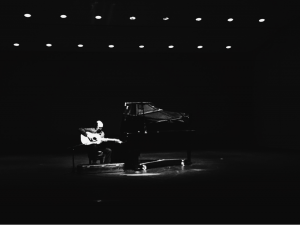 The concert began with a few piano songs including "Rain" from his Winter into Spring album followed by one song on his Hawaiian Slack Key guitar before the intermission. The performance lasted a little over two hours, and in the second half of the concert Winston brought out his harmonica and finished with a memorable piano melody.
His music gives off an almost nostalgic feeling with happiness, sadness and a story told through his songs. The classical piano he plays is very relaxing but also very intriguing, the rate at which his hands move keep the audience absorbed, but the artist keeps a calming demeanor. He also shows his music through his facial expressions, tightly scrunched and intense to relaxed and joyful.
The outfit of choice for this professional classical piano player for his performances consists of jeans, a flannel, and socks. He claims that his socks quiet the heartbeat pounding in his left foot. It is not a surprise Winston has been mistaken as a technician coming out to tune the piano.
Every concert holds a charity food donation to a local homeless shelter, Winston asks that everyone coming to his performance brings canned or boxed foods.
This performance was one of the many on his summer tour which includes 21 concerts before the end of July.
George Winston has an extensive musical history. He was born in 1949 in the state of Michigan and grew up mainly in Montana and Florida.
He started piano playing at the age of eight, but quit to play baseball with local boys in his neighborhood. The young artist picked piano back up again as a teenager playing electric piano and organ in a band.
In 1971, he discovered the music of Fats Waller, a stride pianist. Stride incorporates mostly jazz and acoustic piano playing. In an interview with a record producer Bill Milkowski, Winston said, "I was playing electric piano at the time … when I heard Fats do 'Got a Brand New Suit' off one of the old RCA Vintage albums. I remember saying, 'This is how I wanted to play all my life.' I had seen a couple of stride players … but I wasn't really interested in stride until I heard Fats. I literally left the electric stuff behind."
His professional career began in 1972 when he was first recorded by John Fahey for Tacoma Records which produced his Ballads and Blues album and his Dancing Cat Records. He then moved onto Windham Hill Records which produced Winston's Autumn, Winter Into Spring, and December records. All three of those albums went platinum and December triple platinum for selling over three million copies.
George gets most of his musical inspiration from early 20th century artists dating all the way back to the early 1900's. His inspiration for his Linus and Lucy-The Music of Vince Guaraldi came from A Charlie Brown Christmas in 1965 which included the musical works of Guaraldi. Winston released his album in 1996, "I love his melodies and his chord progressions, he had a really personal way of doing voicings," said Winston. His next album Love Will Come released 2010 also featured the works of Guaraldi.
The pianist was also inspired by a blues rock band formed in 1965, The Doors. Winston's 2002 album Night Divides the Day- The Music of the Doors features his solo piano tunes inspired by Jim Morrison's band.
He released Remembrance- A Memorial Benefit in 2001 to commemorate 9/11. In 2006 he also released Gulf Coast Blues and Impressions: A Hurricane Relief Benefit and in 2012; Gulf Coast Blues & Impressions 2: A Louisiana Wetlands Benefit.
Along with the Hawaiian Slack Key guitar, the musician also plays the Harmonica. This includes mostly Appalachian fiddle tunes and ballads on his harmonica and Appalachian fiddle tunes and Hawaiian guitar pieces on the Slack Key. His solo harmonica album was released in 2013 titled Harmonica Solos and his Slack Key can be heard in many of his albums including Remembrance- A Memorial Benefit.
Winston plays many styles of music including alternative, contemporary instrumental, neo-classical, new age piano, solo instrumental, and holiday. Those can be heard from all of his 17 albums. He has also won a Grammy Award and an award for the Best New Age Album for his 1995 album Forest.
George Winston is quite simply a skilled musical genius and a man with a beautiful artistic mind. His ability to perform over the years have not diminished, he has had an extensive successful career. His next concert will be held in Ocean Springs Mississippi on February 17, 2017.