Change for Change
On March 2, 2017, the students of Verrado High School will be able to bring in their loose change to help raise money for the Life Skills program. At 10:40 a.m. during Extended Learning Opportunity on Thursday, students will have sixty seconds to donate as much money as they can for a good cause.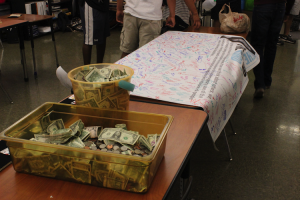 All forms of money will be accepted (excluding checks). The proceeds gained from the One Minute Challenge will be given to the Unified Sports Program of VHS, a group of the students that are physically challenged but are brought together with other students to participate in many activities on campus at VHS. The Unified Sports Program goes bowling, plays baseball, dances/cheers at competitions, and so much more.
On the day of the challenge, there will be many groups of students helping with collecting the money, such as National Honor Society, Student Government, varsity sports teams, and more. They will all be assigned different parts of the school to collect money from and they have to stay there for the whole minute and get as much change as they can.
Many students who helped last year will be helping again. Mari Wright, a junior who helped last year said, "My favorite thing about participating is seeing the special needs students so happy when they find out how much money we raised for them!"
Mr. Swanson is the Life Skills teacher and the reason this is happening. When he taught at Valley Vista High School he completed this challenge with them, and has been doing it for six years since then. "We have a Unified leadership group which meets every Thursday in my classroom and we have been preparing for it," said Swanson.
Although many students do know about it already, there are some who know absolutely nothing about the challenge. "I haven't heard much about it at all, but I have been wondering because I keep seeing the posters," said freshman, Emma Noel, "I want to know what is happening and who is involved."
The opportunities that the special needs students get through the Unified Sports Program are priceless, as they get to feel as though they are living the true high school experience despite their differences.
On March 2 make sure to bring in any amount of money and be ready to donate it during Extended Opportunity time! Just as Mr. Swanson said, "All students need to do is bring their change to make a change!"