Verrado to Host First Annual Color Run
February 14, 2017, sign-ups for the color run began, and will continue up until March 7. On March 8, classes will consists of Blocks 1, 3, and 5 with advisory at the end of the day, which is when the color run will take place.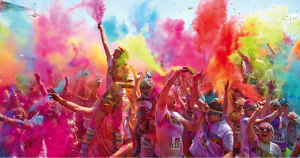 Advanced PE and Weight Training classes have put on the mud run for the past two years. This year they hope to get enough students to participate in the color run to raise money for Autism.
"We had over 500 for the Mud Run last year and hope to exceed that number to 600," said teacher in charge of color run, Mrs. Wadding.
Not only is the Color Run something every student can become excited about, but all proceeds will be donated to Autism Speaks.  All that is needed to participate is 5 dollars and a permission slip, which is to be turned in to the Bookstore.
"I am hoping we have students get involved in a school wide event that is held during the school day to promote Autism Awareness," said Mrs. Wadding.
With students who previously participated in the Mud Run, Advance PE and Weight Training classes want to let students know how much of a blast it is.
"I have participated in the Mud Run twice now and both have been super fun and a good level of difficulty, but I think the best part about them is how all of the proceeds go to an important cause, " said senior Kara Becton.
If you are able to participate, it is highly encouraged, as there will also be fun add ons to make the experience one to remember.
"I am supplying Chick-Fil-A sandwiches to the first 200 runners [that sign up], so sign-up for a good cause and earn a free sandwich in the meantime," said senior Becton.
"Sign-ups began February 14 in the bookstore, you must have a signed permission slip and 5 dollars donation. T-shirts can also be purchased in E22 with Ms. Long for a cost of $7. We encourage runners to wear all white so the colors POP," said Wadding.
Promoting Autism Awareness is a huge cause that everybody can be involved in, so go sign-up before it is too late and look forward to the upcoming run March 8.