Parking Policy Brings Change to Verrado
Addition to Parking Policy Receives Mixed Student Reactions
The student parking policy has been overhauled recently in an attempt to create an effective and safer environment for student drivers. Students have given mixed reactions to the policy's addition.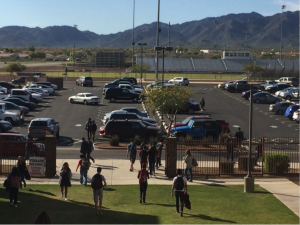 The regulations are a result of students parking in spots that have been already purchased by other students. There are many parents and students upset after purchasing a permit and follow the school handbook, but other students disregard the policy without repercussions.
Students have been quick to voice their opinions on the "new" policy, but students must remember that the parking regulations are not new but are an enforcement of the policy already in place.
"This is not a new parking policy. It has always been here. Students have always had to purchase a parking permit," stated Mr. Brezovsky, the Athletic Director and AP overseeing student safety and security.
Many of the students believe that the assigned spots are ineffective. Students ignore the assignments and continue to park in another student's spot. Junior Victoria Boyer has experienced this problem.
"Assigning parking spots to students just caused more of a hassle," Boyer claims that the assignments are often disregarded with students stealing her's and other's spot. "It has happened four times. I just park in someone else's spot, and the chain reaction just causes more problems."
Students have busy and demanding schedules and see the boots as an inconvenience. If a car is booted, the student has to purchase a parking permit before the boot will be removed.
"People have responsibilities like work and sports they need to get to, and the boot is just another way for the school to cause more frustration for students," added Boyer.
Administration does not intend for the policy to be an inconvenience for students, but a way for students to become more accountable and contribute to the school with the profits from the permit sales paying for security from the police at dances and sporting events.
"It's booting as opposed to towing, which is listed in the district policy book. This way students become more accountable than when they only got a sticker on their car. If you only had a sticker, than you could drive off, and the problem would remain unresolved," said Berzovsky.
This concept is not unusual. It exists outside of high school with schools such as Desert Edge and Millennium having their own parking regulations.
The Verrado Administration sent out an email to all students and parents stating, "students who park on campus without a valid parking permit and in their assigned spots will be subject to having a parking boot placed on their car. The boot will not be removed until student reports to the bookstore to purchase a permit."
"It is universal. Anywhere you go you will have to pay for parking. If you work in a metropolitan area, you will have to pay, but then you will have to deal with it on your own without your parents," added Berzovsky.
Some students agree with the policy and can see the importance of strict regulations. "[It is] absolutely necessary because college has a similar concept as well as life," said junior Joseph Nguyen.
The policy should also improve student safety while on campus. "If there is a fender bender or some sort of accident in the parking lot, we can identify who hit the other car without having to personally monitor the parking lot. This also verifies that students are driving with a valid driver's license," said Berzovsky.
Before students question whether the policy and enforcement are legal, students need to know that it is the school's right and responsibility to enforce the policy. Law enforcement is not involved in anyway.
"This is private property. Officer Ellison does not get involved in parking lot matters, except the aforementioned accidents and fender benders," added Berzovsky.
The revamping of the policy should bring order to the otherwise chaotic parking lot and reinforce the idea of a safe school environment, while also preparing students with accountability for life outside of high school.