Fashion Club Suits Up for Prom
To assist students with their wardrobe for Prom, the Fashion Club has put together a show featuring suits from Sukie's and Men's Warehouse and dresses from David's Bridal, Sukie's Bridal, and Molina Bridal on Friday, March 24.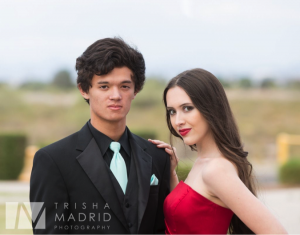 Christina Kauth, a financial literacy teacher at Verrado and adviser to the Fashion Club, is very proud of all students involved in planning the show.
 "What makes it so rewarding, though, is when I see how innovative and creative the students are with their own collections," said Kauth.
Hannah Shelton, junior, is the president of the Fashion Club.
"It is a lot of work to make sure the models have the walk down, especially a few days before the show," said Shelton, "but the students who are participating in the show have great attitudes and work ethic."
The Prom Fashion Show is different from other events by the Fashion Club because it is formal dress. Experimental designs are pushed to the side to embrace more ornate, traditional attire.
The last show by the club led to a full house for the unique, original fashion lines created by students in the club.
Model Justin Sauceda, senior, said "[The Prom Fashion Show] is something put together for the students to show them different looks for prom."
 In an effort to repeat the sold out crowd, Prom tickets will be sold for $55 for a single ticket and $95 for a couples ticket.
 Running the show is difficult, but many models are nervous about walking in it.
"I get super shaky presenting to a class of twenty-five, I can't imagine walking in front of a whole auditorium," said senior Karina Canfield, a model in the show.
 The numerous vendors generously offering their clothes benefit by helping students find the newest styles, while getting the free advertisement of young adults wearing their clothes.
 The doors open at 5:00 pm and the show starts at 6:00. Get there early to ensure you have a good seat to watch the models strut down the stage.